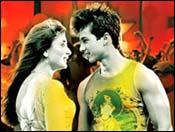 Shahid Kapoor's second outing, Fida, is a simple love story with a twist.
The TIPS produced film is worth a watch for its acting and slick editing. Director Ken Ghosh has done well in his second film as well.
Jay (Shahid) is a happy-go-lucky orphan. Though his best friend Sonia (Kim Sharma) is in love with him, he has his dream girl all figured out in his mind.
He chances upon Neha (Kareena Kapoor) drinking a cold drink and realises at once that she is his perfect woman. He expresses his feelings to her but it takes much convincing to finally win her over.
| | |
| --- | --- |
| | More on rediff.com! |
| | |
Their dream gets a blow when Neha tells him her father was a criminal and had borrowed Rs 60 million from the underworld. It is up to her to return the money within three days or be dead.

Jay decides to rescue his damsel in distress and prepares to rob a bank. But when he goes to the bank, he meets Vikram (Fardeen Khan) who withdraws Rs 70 million from the bank, and decides to rob him instead.

After the initial plan to rob him goes awry, Jay decides to take Vikram into confidence.

But Vikram has a secret.

What is it? Will he help Jay recover the millions before the Mafia gets its hands on Neha?

Ken Ghosh has scored another winner after his first film, Ishq Vishk. The movie drags initially, but picks up pace with a very surprising end.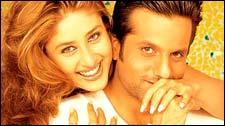 Shahid and Kareena have done a great job.
Shahid is entirely convincing as the love-struck lad who is ready to do anything for the girl of his dreams.
Kareena has finally moved beyond Poo in K3G and has come into her own. She has portrayed the parts where she is racked by guilt very well.
Fardeen is his usual suave self.
Anu Malik's music has a youthful appeal that adds flavour to the film.
Fida has its share of incongruities. But having said that, let me add Fida is definitely paisa vasool!