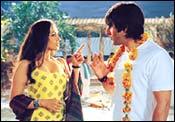 Kunal Kohli's second offering (his first was Mujhse Dosti Karoge), Yash Raj Films' HumTum is a simple love story. It is the essential Bollywood formula love story, with a twist: Girl meets boy. Girl hates boy. Girl meets boy again. They fall in love.
The film opens at the airport with the protagonists, Karan Kapoor (Saif Ali Khan) and Rhea Prakash (Rani Mukherjee), leaving for New York. Rhea's mother, Parminder Prakash aka Bobby (Kirron Kher), is busy praying for her daughter's safety.
Karan is accompanied by mom Anu Kapoor (Rati Agnihotri) and good friend Mihir Vora (Jimmy Shergill). He believes that 'boys' and 'girls' can never understand each other, let alone be friends.
Both Karan and Rhea are seated next to each other in the aircraft, and the ice is broken. Karan shows Rhea his cartoon characters, Hum and Tum, the quintessential boy and girl who cannot live with or without each other!
At a stopover in Amsterdam, they explore the city and their differences together. Just as Rhea drops her guard around Karan, he kisses her, only to be slapped. They part on that sour note.
Three months later, they bump into each other at a New York park. Karan is with his girlfriend Shalini (Shenaz Treasurywala). Shalini and Rhea discover they are school friends. Rhea tells Shalini all about the Amsterdam episode, at the end of which Karan and Shalini split.
Cut to three months later, when Karan is back in Delhi with his mother. She is a wedding coordinator and ropes Karan in to help with a wedding. The bride turns out to be Rhea.
Karan bumps into Rhea again on a French train, where she cryptically tells him, "Samir is no longer part of my life." Karan lands up at his father's (Rishi Kapoor) Parisian house and tries to find Rhea.
Will Karan find Rhea? Where is Samir? Will they realise that they love each other? Will they be together? This constitutes the rest of film.
Hum and Tum, Karan's cartoon characters, pop up now and again. They experience the incidents that happen to Karan and Rhea — in animation.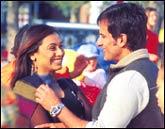 This urban romance, which spans six years and many cities — Amsterdam, New York, Paris, Delhi and Mumbai — is an easy watch. The movie is essentially episodic in nature, and the episodes have been woven well together. The characters are also well defined.
There is a plausible, if simplistic, storyline. Like when Rhea alights from the train, she doesn't give Karan either her number or her address. Karan still traces her phone number and reaches her mother.
The film does suffer from continuity problems. At her mehendi ceremony, Rhea dances around Karan in the Gore gore song. The mehendi in alternate scenes changes from wet, dark green to light orange to dark orange. The next scene shows Rhea's forearm covered in a dark maroon mehendi design, but the palm is clean.
In the beginning of another scene, Karan is shown to be drunk and tottering around. All of a sudden, he finds his balance, walks straight, and is so sober that he proceeds to run and find a victoria and come back to where Rani is waiting.
Also, it isn't quite clear why Karan and Rhea do give up their inhibitions. Why would a girl who is so independent get close to a guy she is not sure of?
But Kunal Kohli does a fair job. The direction is tight in most places. The title song, though, is placed badly and detracts from the narrative. It can be safely deleted from the movie.
Saif is perfect for the role as Karan, the smooth-talking urban male whose main aim in life is to get every woman to date him. In fact, this role would be a natural progression to his Dil Chahata Hai role. The film rests on his shoulders. From the irresponsible 22 year-old off to America, his character has been developed well over the next six years in the movie. As usual, Saif scores with his comic timing.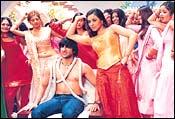 Rani continues with her Chalte Chalte tanned look for this film. She has done a competent job as the level-headed, no-nonsense Punjabi girl who knows what she wants. She excels in the tear-jerking scenes and matches Saif in the comic ones.
Kirron Kher as Rhea's mother is superb, with her Punjabi accent and mannerisms. The other supporting actors, Rishi Kapoor, Rati Agnihotri, Jimmy Shergill, and Ishaa Koppikar, are adequate.
All told, a feel-good film which will appeal to urban audiences.