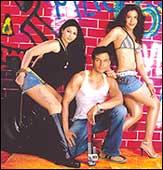 Dear Director,
The name of your movie Popcorn Khao! Mast Ho Jao suggests it is a total time pass film, but after I watched it, I thought it was quite boring. It did not have the 'youthful exuberance' that you said -- in an interview -- the film would have.
You should not take audiences for granted by simply showing three long hours of dialogue.
The guy sitting behind me was so frustrated that when the interval arrived, he exclaimed loudly, 'Thank God!'
If I had my way, I would have walked out half way through.
The story is like the typical Bollywood film. Three college friends Rahul (Akshay Kapoor), Tanya (Tanisha) and Goldie (Yash Tonk) call their group the Kurta Gang. Tanya is in love with Rahul and Goldie is in love with Tanya. But Rahul is in love with a new student, Sonia (Rashmi Nigam).
| | |
| --- | --- |
| | More on rediff.com! |
| | |
After college, Rahul comes to Mumbai to become a music director and decides not to see his friends for five years till he becomes famous. He gets a break through VK (Deepak Tijori), who is Sonia's dad, but soon learns that Sonia already has a boyfriend Yash (Kabir Sadanand).
Should we think you have made a different kind of movie? Arrey bhai, we have seen this type of movies time and again: Jo Jeeta Woh Sikander and Ishq Vishk fit the pattern of a poor girl in love with a guy, in love with a rich girl.
Just because triangular love stories work and Dil Chahta Hai kind of dialogues are appreciated doesn't mean you put punch lines here and there, make people laugh in those scenes, and that's that. Not done, sir. You have to work hard on your story, flesh it out and execute it with good performances from the actors.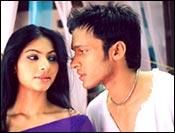 And then, flashbacks of the Kurta Gang friendship is shown so often! The lines 'do saal chaalis din char ghante phele' and 'do saal chaalis din char ghante baad' are so repetitive, it gets frustrating.
Post interval, the film just drags on.
Yash Tonk does get to say some nice dialogues, and puts in a good performance too. He's is the only actor, besides Deepak Tijori, who does a good job.
Newcomer Akshay Kapoor is good in emotional scenes, but otherwise, he is bad. I wonder why he appears shirtless in so many scenes. Does he want to be the next Salman Khan? Unfortunately, he will be left with no takers.
Rashmi Nigam has poor dialogue delivery; it looks as if she is thinking while speaking. She knows few expressions and holds on to them throughout. But her Latino number Solemiya is well choreographed.
Tanisha, as usual, is very bad. She needs acting tips from her talented sister Kajol.
The songs Le chale, Solemiya and Dupatta beimaan are catchy. Jelena Jakovljevi, in an item number, looks very attractive.
So what, I wonder, do audiences get from the film, besides some good music, when they watch it in theatres?
Regards,

Patcy N.

CREDITS
Cast: Tanisha, Akshay Kapoor, Rashmi Nigam, Yash Tonk, Deepak Tijori
Director: Kabir Sadanand
Producer: Pritish Nandy Communications
Music: Vishal-Shekar
Lyrics: Vishal Dadlani