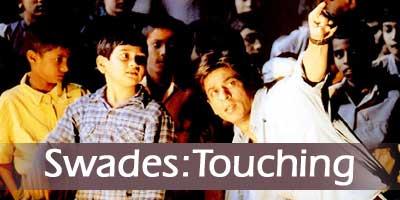 A
t the
music launch
of
Swades
, Ashutosh Gowariker said his new film would definitely be compared to his earlier film,
Lagaan
, the Oscar-nominated blockbuster.
Both films have a rustic, village look, and comparisons between the music seems reasonable.
But the music of
Lagaan
is way ahead of
Swades
.
The first song in
Swades
,
Yeh tara woh tara,
sung by Udit Narayan with Master Vignesh Baby Pooja and kids is passable.
The second one, Aahista aahista by Udit Narayan and Sadhana Sargam, is really not worth a mention.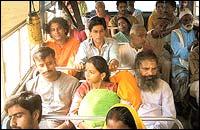 But as we go on, the music seems to improve.
Yeh jo des hai tera is sung well by A R Rahman, and is worth listening to.
The lyrics of this slow song, penned by Javed Akhtar, touches your heart -- Mitti ki hai jo khusboo, tu kaise bhulega, tu chahye kahi jaye, tu laut ke aayega.

Pal pal hai bhaari, a bhajan sung by Madhusree, Vijay Prakash and Ashutosh Gowariker himself, is quite nice. The beauty of this song lies in the way it praises Lord Rama and his deeds.
Dekho na, by Alka Yagnik and Udit Narayan, and Saanwariya saanwariya, by Alka Yagnik, are okay.

But the best number is Yun hi chala chal sung by Udit Narayan, Hariharan and Kailash Kher. Kailash sounds excellent.
At the music release, Swades hero Shah Rukh Khan speaking via video said it was his favourite song.