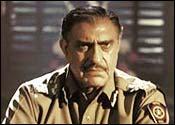 He may be notorious for his mean streak onscreen. But Amrish Puri is not complaining.
Bollywood's Mogambo doesn't mind playing the bad guy. In fact, he insists he 'enjoys' them.

"I am happy to play the bad man.  As an actor, I have to justify the roles I get. Unfortunately, I get more bad [negative] roles than good [good guy] roles," he says.

In his new film, Garv: Pride & Honour, he says, "I am playing a very positive role. For a change I don't get beaten up by the hero," he jokes.

When asked how many films he has acted in so far, Puri admits he has lost track, "I don't know. I have lost count. But one of my fans told me I have acted in over 300 films."


| | |
| --- | --- |
| | More on Rediff: |
| | |
Playing the bad guy film after film can get repetitive for any actor. But Puri believes he innovates in every role. Don't ask him how, though, because that is a secret. "Actors are like chefs. A good chef never gives out the secret of his recipe. Similarly, a good actor never doles out his tips for acting," he says.
Puri doesn't care too much for competition. He likes to 'stick to discipline and punctuality'.
"I am a director's actor. I always follow their advice. That is the reason for my survival in the industry. I am like a brick. You can use a brick in a masjid [mosque], mandir [temple] or church. I fit in with any director. I don't think I am perfect. I keep trying new elements in acting," he adds. 

About his role in Garv, Puri says, "I play a police commissioner and godfather to Salman Khan. To maintain law and order in the city, Salman kills 18 people. It is a necessary act, and I support him fully. How I go out of my way to protect him is my role in the film."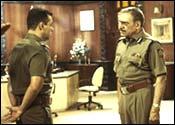 "I am very proud of our armed forces. I am always willing to help in whatever way I can. They have to do the dirty job of cleaning up society. Our armed forces and policemen are upright and honest," says Puri.

Does he ever ask filmmakers to include one-liners like, "Mogambo khush hua" (from Shekhar Kapur's Mr India) in his dialogues? Puri bursts laughing. "No. Never. That is the director and writer's job. I only do my roles as per the requirement of the director and writer. I stick to that brief," he says.  

Films like Mr India, Gardish, Virasat, Ram Lakhan, Ghayal, Ghatak, Damini, Saudagar, Dilwale Dulhania Le Jayenge, Zubeidaa or Gadar-Ek Prem Katha offer ample proof of Puri's versatility as an actor. But if you ask him to name one role that gave him immense creative satisfaction, he says, "There are many roles I am very satisfied [with]. Some films did well. Some didn't. It is not appropriate for me to pinpoint the most satisfying role."

Any plans of turning director? "If you have a talent in you somewhere, it automatically comes out. [The director of Garv] Punit [Issar] had it in him. Therefore he became a director. I don't think I am capable of becoming one," he says. 

He might get beaten up by the hero in reel life. But in real life, Puri is treated like a hero at home by his family. "They like me in my films. They know I have been appreciated for my roles all over. They feel good to hear good things about me," he smiles.