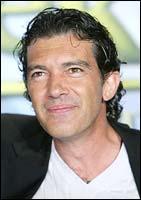 Antonio Banderas has a problem.
For his latest film, the action-packed Zorro 2, the actor has to train extra hard thanks to his catty avatar in the blockbuster, Shrek 2!
Shrek 2's Puss-in-Boots is dressed up Zorro style with black cape, black hat and sword. The cat even carves his initials on trees. According to People magazine, Banderas, who lent Puss his voice, hopes audiences will not prefer the cat to him.
The sequel to the 1998 movie, Mask Of Zorro, will go on the floors this month.
Photograph: Sean Gallup/Getty Images