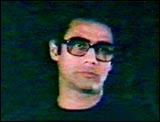 Punit Issar is better known as the actor who played Duryodhan in B R Chopra's 1988 mega-hit television serial Mahabharata, giving a convincing portrayal of the evil Kaurava prince.
But Issar's career did not start off on a good note. In 1982, he made headlines when he accidentally punched reigning superstar Amitabh Bachchan during a fight sequence on the sets of Coolie. Bachchan was seriously injured and narrowly escaped death. The accident was catastrophic for Issar's film career, as he stopped getting acting offers and was often told to play a sidekick of the main villains in films.
"I have seen a lot of ups and downs in life in the last 20 years," Issar says philosophically. "I believe that bad times don't last forever. Life goes on."
In 1995, Issar switched to directing successful television serials like Jai Mata Di and Hindustani. Now, he is making the transition to the big screen. His first feature film, Garv: Pride And Honour, stars Salman Khan, Arbaaz Khan and Shilpa Shetty.
Issar spoke to Syed Firdaus Ashraf about what makes him proud!
What made you think of making Garv with Salman?
When I wrote the story, I could only see Salman in this role. I narrated the script to him and he liked it. My hero is silent and a man of few words. He's cool, has no problems with friends, but is also very cold. He has a tremendous bardaasht karne ki taakat [tolerance level]. Salman has the same nature in real life. He has given a brilliant performance and I think he will walk away with film awards.
Salman is also said to be a very misunderstood man in real life...
Yes. It's the same situation in my film. (Laughs)
So, what is the story of the film?
It is a cop film. It is a complete film, with good songs and a lot of entertainment. Garv is about a police officer, Arjun Ranawat [played by Salman Khan]. He is an upright cop. He stands up against corruption and for all the right things in life. And how he fights [the wrong things].
The film was first titled Sanghar. What made you change the title?
Selling the film with that name would have been difficult. Sanghar is close to my heart, but people asked me what it meant. I used to explain that one who gives birth is Brahma, palan poshan wala [one who nutures you] is Vishnu, and sanghar ke devta [god of destruction] is Shiva. So we named the film Garv.
Was it easy convincing Salman to star in your film?
Now it looks simple. But he's a busier and bigger star compared to me. I told him I have written a script and want to direct him in my film. I was directing television serials in those days.
He called me after eight months. He calls me 'big man'. He telephoned me and said, "Big Man, I am ready to hear your script." When he heard it, he loved it and readily agreed to do the film. He also wanted to produce the film, but I told him that it is being produced by Cinevistaas.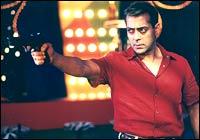 Why the shift from television to films?
It is a natural growth. You need to move in life.
Garv went through a lot of controversy...
Yes. When we were to start shooting, Salman got into an accident [one man died and several were injured when Salman allegedly ran over them while driving his car in a drunken state. He is on bail currently].
I had a 7am shooting and I got a call from Salman asking me to cancel the shoot because he was 'in a mess'. When I met him, I learnt about the accident. I was demoralised and just missed a cardiac arrest. I had got up at 5am and wanted to go for the first shot of the film. The producers were also tense and thought the film would never get released.
Yet you insisted on doing the film with Salman?
Obviously. He is a friend. I have worked with him in seven-eight films like Sanam Bewafa, Suryavanshi, Jagruti, Chandra Mukhi, and others. I was told that he would have no fan following left, that the accident case had given him bad publicity. Everyone had panicked. Producers were under pressure to give up on Salman. But I refused. I was optimistic that Salman will come out of this mess.
I was a nobody and had approached Salman who was a star. He called me and said he would do the film. From a TV director, I suddenly entered the 'A' bracket of directors. And it was only because of Salman Khan.
Accidents and calamities occur, but that does not mean you give up on friends. I said I would do this film only if Salman starred in it. If I had given up on him, there would have been no one more naashukra [ungrateful] than me. At the end of the day, I am also thankful to my producers who stood by me.
In retrospect, Salman proved everyone wrong by making Tere Naam a big hit.
How long did it take you to complete the film?
It took us 15 months. We were delayed by three months. We had decided to complete the film in a year.
Are you planning any other films?
I have bound scripts ready, which I will do with Salman only. First is a passionate love story called Taabeer — When dreams come true. Salman is ready to do that. There is another emotional love story called He-Man.
Both are emotional films?
Yes. Who can play a better He-Man than Salman Khan? It has nothing to do with the comic character of He-Man. This story is about a father and son. I think every son thinks his father is He-Man. Salman has a son who thinks that his father is He-Man.
What about your plans for acting?
I am doing a film called Aryan. I don't think I will stop acting. I am paid only to work in acting, but in direction I am paid to think. I am like a taxi. Agle ne meter down kiya, jahan le jao, jaenge. This is what Raj Kapoor said in one of his films.
You never worked with Amitabh Bachchan after Coolie. Why?
I would love to act with him. But producers did not take us together. They think I will hit him again! They are afraid, I guess. [Laughs]
People still associate you with that accident...
Yes. People thought yeh toh rakshash hai [he is a demon]!
How did that affect your life?
For years, I did not get work. I was a trained actor, but people labelled me a fighter after that incident. I started playing sidekicks of villains in films. I wasn't embarrassed to do that work. I had a family to support and was ready to do any job. The struggle was on. I guess it was all destined. I am a firm believer in destiny.
Is that why you turned to South Indian films?
Yes. I am still doing films down South. Recently, my Telugu film Thakur [starring Chiranjeevi] has become a big hit. Why should I stop doing South films? They give quick money and good money on time. Why should I shut my shop? I am honest about these things. [Laughs]
Do you think that accident was a bad omen for you?
No. Whatever happens to you is for the best. Though it was bad publicity, I became world famous! That bad publicity gave me a name in the industry.
Did you meet Amitabh after that?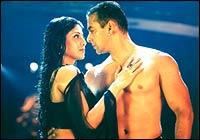 Yes. He is very nice to me. It was an accident that happened 22 years ago.
Does it haunt you?
No, it is a long time now. It haunted me when I had no work. But then, I moved on.
Your bald look has been consistent for many years now...
I am bald for the past 14 years. I did a film Ashant with Akshay Kumar, as the main villain. I was bald then. I found that different wigs suit me. Now, this suits my personality. I am happy with this get-up!
Click here for More Interviews