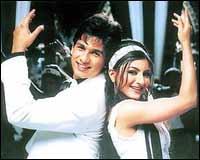 A
ctor
Anant Mahadevan
's directorial debut
Dil Vil Pyaar Vyaar
did not fare well at the box-office. But he may be lucky with his new film,
Dil Maange More
. The movie might just work because it is a romantic comedy, and comedies seem to be the trend these days. Besides, it is the only release this Friday!
Dil Maange More
is about Nikhil (
Shahid Kapoor
), who is in love with Neha (Soha Ali Khan), an ambitious girl who leaves their village, Samarpur, to come to Mumbai and become an air hostess. Nikhil follows her to Mumbai to bring her back. He does not succeed.
He gets a job at a music store in Mumbai, and falls in love with colleague Sarah (Tulip Joshi). But fate has something else in store for him. He meets another girl, his neighbour Shagun (Ayesha Takia). Just when you feel everything is finally working out, his earlier two girlfriends want him back!
| | |
| --- | --- |
| | More on rediff.com! |
| | |
Dil Maange More
is a lighthearted comedy with too many songs, and a pathetic end.
Even though the songs are well choreographed, they tend to disturb the story.
Shahid tends to imitate Shah Rukh Khan a lot. He does it well in some scenes, overdoes it in others. He is also a very good dancer. I overheard a lady saying that he has SRK's energy!
In her Bollywood debut, Soha Ali Khan has done well. She looks comfortable in some scenes. But she does not look too comfortable dancing, especially in front of Shahid.
Tulip Joshi and Ayesha Takia have done a decent job. But it is Gulshan Grover, who plays Shahid's boss, who impresses the most. Interestingly, his name is A R Rahman in the film!