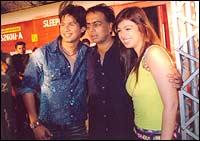 Anant Mahadevan's previous directorial effort, Dil Vil Pyar Vyar, was an interesting failure. And now he Is back for, well, more!
"Dil Vil Pyar Vyar was India's first retro-musical. No one had shot three different love stories in three different colours," he says. "Dil Maange More is more mainstream. It isn't treated the way comedies are generally treated; there's nothing loud or crass about it. It's not like Hulchul!"
Clearly Anant's x-factor is leading man Shahid Kapoor who, after an attempt at darker dimensions in Fida, returns to his frothy Ishq Vishq beginnings. Observes Anant, "At this point in his career Shahid shouldn't break away from his youthful romantic image. Dark films don't suit him now. If he wants to do a Baazigar or Darr, Shahid will have to wait another five years. He needs to consolidate his lover-boy image."


| | |
| --- | --- |
| | More on rediff.com! |
| | |
How Shahid came aboard Dil Maange More is another story. "Earlier, I was to do the same project with Tusshar Kapoor in the lead," he explains. "His Mujhe Kucch Kehna Hai had just released then. We needed a face that could project a character that hadn't been exposed to the ways of the world. But Tusshar's subsequent films didn't do well, and my producers panicked. Then I met Shahid, and sounded him out on the project. With due respect to Tusshar's talent, I now feel no one could've fit the bill better than Shahid. I needed the Aamir Khan of Qayamat Se Qayamat Tak. And I got it!"

Anant can't stop raving about his leading man. "I don't think there's anyone in his age bracket. The closest someone comes to Shahid is Hrithik Roshan. The rest of our heroes would've looked too mature for the role."

Sharmila Tagore's daughter Soha Ali Khan makes her Bollywood debut with Dil Maange More.

Enthuses Anant, "When I approached her, I wasn't sure she'd want to do a three-heroine film as her Hindi debut. But the way she responded to the narration I instantly knew she had a script sense. It was almost ;like a seasoned actress responding to a play narration. She reacted correctly to all the emotions. Soha saw Dil Maange More as a fun film and agreed immediately. The other two girls -- Tulip Joshi and Ayesha Takia -- took longer to agree. I think they were apprehensive about being pitted against one another. So many girls said no because there was more than one leading lady in the film. After seeing the film, none of the girls feel cheated."

Anant clarifies that Shahid doesn't play a Casanova courting three girls. "It's a different love equation. We try to figure out who would be the right kind of girl for our hero. It's different, though still within acceptable norms of entertainment. I am hoping to cash in on the difference. Mine is the last film in 2004, and it'd be nice if it does well. The year Dil Vil Pyar Vyar released was one of the worst years for Hindi cinema. Now, things are better."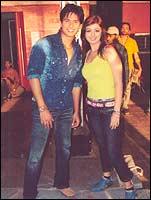 The soft-spoken director claims Dil Maange More is what he would have done even if he didn't have to worry about the commercial performance of a film. "Though commercial, it still falls within the ambit of my sensibilities. I can't do anything crass. I've made the film exactly the way I wanted. To my relief, no one who has seen Dil Maange More says it's experimental."
At a preview, Sharmila Tagore commented that the humour has been treated realistically. "That's some compliment. To be realistic and yet humorous is tough. Though three girls and a boy strikes you as a screwball idea, my film makes it look tenable. There has been no real 'date' film this year. Well, here it is!"
Anant Mahadevan plans another Shahid film with HMV. It will be a marital comedy. "But my next is a suspense film called Aksar, produced by Shyam Bajaj. It is a mind-game played by a husband, wife and a fashion photographer. I am looking at various actors. It is strange but no actor has dates for the next six months! One never gets the correct cast. Either the right face is busy or he doesn't sell. I was lucky with Shahid."