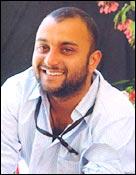 Long before Kyun! Ho Gaya Na... became one of the most talked about films of the year, Samir Karnik was studying international relations in Washington, DC.
He wanted to be a troubleshooter at the United Nations, solving international disputes. 

After completing his studies, he decided he didn't want to be a diplomat. 
He wanted to be in showbiz.

In 1996, he returned to Mumbai to pursue his dreams and joined Vidhu Vinod Chopra as an assistant director on Kareeb.

"Whatever I learnt about international relations was a waste," Karnik told News Editor (Entertainment) Syed Firdaus Ashraf.
After Kareeb, Samir got an offer to run a television station in Tanzania. "I chilled out in Dar-es-Salam (the capital of Tanzania). I did a lot of exciting things. But after four years, I told myself this is not what I was supposed to do. I left my studies to become a director. So what happened to that dream?" he recalls.
| | |
| --- | --- |
| | More on rediff.com! |
| | |
So he returned to Mumbai in 2002, script in hand, to make a film.
Now, he needed a producer and a cast.

"When I look back, I feel my life went from bad to worse in two years. Now, finally, I am happy," says the debutant director.
KHGN
stars Amitabh Bachchan, Aishwarya Rai and
Vivek Oberoi
, and is produced by Boney Kapoor.
How did you get such big stars to work in your first film?

In 2002, after I had written my script, I went to meet a friend on the sets of Saathiya.
I saw a familiar face on the sets. Suddenly, I remembered and shouted, 'Hey Oberoi! What are you doing here?'
It was Vivek Oberoi, my school friend from Mayo College, Ajmer. I learnt he had become an actor. I had no idea because I was in Tanzania, and was not in touch with the Indian film industry. He told me his first film Company had released, and that I must watch it.
He asked me what I was doing on the sets. I told him I had come to meet another friend. I had a script and plans to direct a film. He read my script and wanted to be a part of my film.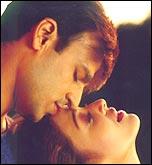 And Aishwarya Rai and Amitabh Bachchan?

I paged Aishwarya's secretary Hari Singh. He used to carry a pager then. Hari Singh always responds to messages. He fixed up a meeting with Aishwarya. She also liked the script and wanted to be a part of the film.
The same happened with Amitabh Bachchan. I faxed my message to his secretary Rosy a couple of times. Then she arranged a meeting.
I was very lucky.

Was it that easy?

No. But I persevered. I never gave up hope. I used to follow them every other day.

How did you get a producer?

I told you I was lucky. UTV (who co-produced Laskhya) was supposed to produce it. We were ready to shoot in November. In October, they backed out. I don't want to get into the details. That was the most difficult time of my life. I had borrowed money from friends to put up the sets. I had signed everyone and I reached a point on October 15 when I had no money to pay conveyance for labourers on my sets. I learnt a lot then.

Finally, Vivek met Boney Kapoor. One day, Boney called and said he wanted to meet me. He offered to produce the film. I am grateful to the actors as they stuck with me even though the producer backed out.

Boney Kapoor has become my father in the industry. I can call him my godfather, my Mai Baap in the industry!

How do you feel now that the film is about to release?

Happy. Very happy.
I had tremendous pressure in the last two years. Now I can relax.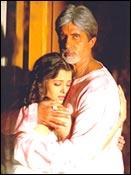 What is the film about?
When I wrote the story I asked myself many questions.
If two different people meet, how do they react to each other?
What happens if they become friends?
What happens if they fall in love?
What happens if they have a conflict?
The film is a love story with a lot of light moments and entertainment. The story is simple, but told differently.

What is Amitabh's role?

He is called Uncle. His name is Raj Chauhan but you will never hear his name in the film. He senses a situation and always says 'Come on Charlie.' As soon as he says that, everything falls in place. He is there to ease the tension in the film.

You were in school with Vivek. How was he as a student?

I was always playing tennis at the national or state level. He was a very nice boy. He was four feet two inches tall. I don't know how he gained the extra two feet and became so tall.
We called him Oberoi. Our relationship stopped after school. 
(After I began working with him) I realised everyone called him Vivek, so I started doing the same. He also started calling me Samir instead of Karnik.

What was it like to direct your school friend?

I never looked at it that way. Our friendship developed at a different level after we started working together.

Vivek and Ash are romantically involved. Will that give a boost to the film?

I don't know. They are good friends. What they do in their personal life is not my business. I don't know whether it will help.
I find it cheap that people think like this.
Is it true that Vivek helped you make this film?

Yes, if Vivek had not met Boney, this film would have not been possible. He did not intend for Boneyji to produce this film. That just happened.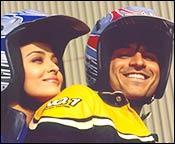 Where did you shoot the film?

Mumbai, Coorg, Goa, Scotland and London.

Were you confident to make a film after working as an assistant in just one film, Kareeb?

I was confident that I would not make a mess of my film.
I may not make a masterpiece, but I will make a good film.
I had the jitters before shooting. Mr Bachchan told me if you do not get jitters, you will stop being a filmmaker.
I still don't know how to take a shot and how to do the camerawork!
For example, how do you picturise the scene of us talking? I don't know that. I just used my commonsense on how it would look good on screen.

Direction is not difficult. It is all about telling a story. But when you write a story, you should stick to it. You write a script in a certain frame of mind and you need to stick to that frame of mind till the shooting is complete.
Anil Kapoor once told me not to 'finger' (mess with) a script when you are idle.
Future plans?


I plan to make another film. I have got two scripts. I will work on them after
KHGN
releases.