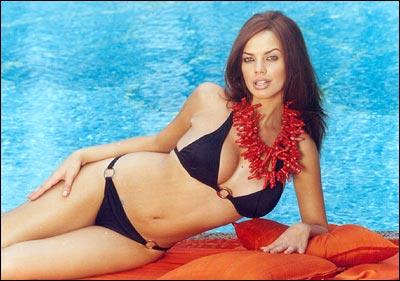 It was the picture that made all the difference.

Ilene Hannan posed for French magazine L'Official and the next thing she knew, she was on the phone line with Pooja Bhatt.

"She asked me whether I would like to do a Bollywood film," Ilene says. "I was taken aback by her offer. I didn't know how to react."
The South African model was roped into Pooja's next film, Rog, co-starring Irrfan and Suhel Seth.

"I told Pooja I had only done television commercials  and had no acting background," she says. "But she was very sweet and explained that acting was the next step to commercials. She told me that acting was all about giving the right expressions on screen and the rest was taken care of."

Pooja's script demanded a gorgeous woman, who would leave men awestruck.

When quizzed about this, Ilene pauses before replying, "Sometimes I feel flabbergasted!"

Acting was not, however, as easy as Pooja had said. "I had to say my dialogues in Hindi, a language I didn't know. So I had to memorise the lines and give the right expressions while doing so. It was tough, but everyone on the sets helped me. I am grateful to everyone, and especially Pooja, who was very cooperative," says Ilene.

The best part about the shooting was that she did not have to "dance around trees"! 
"I could never have done that," she says. "I had heard actors do that in Bollywood films. Thankfully, my role did not require that."

Ask her about her role, and Ilene keeps mum. "My character works in an advertising agency. There are three main characters, and I am one of them. My role has suspense. I have been told not to disclose much. So wait and watch the film!" she exclaims.

Any plans to settle in Bollywood? "I don't know. I am homesick. I have been here for two months. I miss my parents. I plan to be in South Africa for the next two years, but I don't know what the future holds for me."