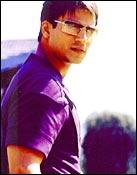 V
ivek Oberoi does not like talking about his relationship with Aishwarya Rai.
Right now, he'd prefer talking about his new film, Kyun! Ho Gaya Na...

But he can't stop praising Ash, his co-star in the film, for her professionalism and discipline.
"She used to come two hours earlier just to do her hair. She does not wear a wig in the film. If the shoot was to start at 7 am, she had to come in at 5 am!" he says.

"It takes so much patience. The sad part is if there was dew in the night, her hair would straighten up. [Ash has curls in the film]. So she had to do it again. Yet, some people call her unprofessional. I am amazed!" he adds.
The actor discusses his new film, which releases on August 13, with News Editor (Entertainment) Syed Firdaus Ashraf.


| | |
| --- | --- |
| | More on rediff.com! |
| | |
Tell us about your character in KHGN.

Arjun, my character's name, does not take anything seriously in life. After he plays one prank, he is busy thinking about his next (prank). But sometimes, masti [playing the fun] is not good, as it can turn ugly. In this film, he makes fun of someone's emotions. Then he says, 'Pyaar aur haar Arjun ki dictionary mein nahin hain' [love and defeat is not written in Arjun's dictionary].
He does not like men running after women. He is a sportsman. In spite of being a modern guy, he believes in arranged marriage. My grandfather and father had arranged marriages and they led happy lives. So why should I opt for a love marriage, he feels.
He believes that arranged marriages have been going on for 1,000 years, so it is a superb formula.
I don't want to become Majnoo or Romeo in the film. But the heroine does not think that way.
Arjun never thinks of going to office or taking up his father's business. He only concentrates on having fun. He is very energetic, pompous and egotistic, but in a sweet way.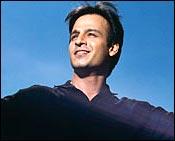 How close is Arjun to the real Vivek Oberoi?

I am a bit like Arjun in real life. But I think love is the best emotion. It connects you to someone else.
If you love someone truly, just look into her eyes. You will find your soul in her.
If you love a person truly, you can make an ordinary day very special for her.
If you go to see a film with a woman you love, then even if the film is bad you can hold hands and laugh at it.

What was the experience of shooting the film like?
During the shoot in Scotland, [director] Sameer Karnik made us really work. We worked 14 to 16 hours a day.
There, mornings begin at 3.30 am and it gets dark by 11.30 pm. So there is daylight most of the time. In this situation, if two actors come into the hands of such a director, then his day is done.
The weather was freezing and I had to wear only a shirt and shoot for a song. It even snowed. On top of that, they were splashing water on me! Just imagine my condition!
I tried to mouth the lyrics of the songs, but could not because I was shivering.

Isn't Sameer your school friend? Why didn't you ask him for a break?

(Laughs) He was never a friend while directing the film!
The other actors got a better deal. I had to work hardest because of Sameer.
I thought things would be easy because he was a friend. But he was very strict for me compared to the other actors. You see, if I shouted back at him as a friend, the others may have done that too. I kept this in mind.
Your reel love is also your real love...

I won't talk about that. Let's concentrate on my film.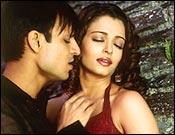 How is she as a co-star?

Fantastic! Very professional!
She used to come two hours earlier just to do her hair as she does not wear a wig in the film.
Aishwarya and Amitji taught me how to be professional, not to be upset and have fun all the time. They get along very well. She was always giggling because Amitji would make her laugh all the time.

What was it like working with Mr Bachchan?

I am very lucky to act with him.
If Bollywood had its temple, then Amitabh Bachchan's idol would be in it.
He is very jovial. He does not take things seriously. Since his name was Uncle in the film, everyone called him that on the sets.
The best thing about Amitji is that he can talk to you irrespective of your age. His greatness comes with such humility. He never makes you feel that he is Amitabh Bachchan. He gets embarrassed when you praise him.
I learnt a lot of things from him. Because I have so much admiration for Amitji, I would keep asking him how I should act. Then he would explain in a very down-to-earth way.
We bonded beautifully. He has a lot of energy. He sets the sets on fire with his presence.
Despite his injuries, he worked in the cold. He danced and was so vibrant. I forgot about my pain. He just takes charge.

Were you nervous facing the camera with him?

Initially, yes. But he keeps his hand on your shoulder and in five minutes, I felt that I grew up by sleeping on his lap. This is the case with everyone.
A director tell him you have not done a good shot and he will take it in the right spirit.

From Company to KHGN, have you grown as an actor?
I don't think I am a great actor.
I was lucky to have that break in Company. I am an average actor. I am a director's actor. I need a good script and a good film to become a successful actor. My character was smartly packaged by Ramuji [Ram Gopal Varma].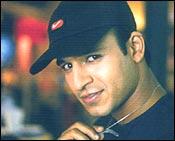 What is your equation with Ram Gopal Varma?

The equation is the same. It has not changed. We don't have a script to work on together. I would love to work with him again. I am only waiting for my phone to ring!

And the Kisna experience?

Superb!
(Kisna director) Subhash Ghai's ratio of hits is better than Sachin Tendulkar's batting average! He is a master director.
If this film comes out right, it will be an epic. He has gone against convention but it is still a Subhash Ghai film. It has a new approach.

Was the shooting affected because of your accident?

No. Yuva suffered because of that.

How is your leg now?

Much better. But I have to exercise. I have to do physiotherapy and meet doctors. I have to be careful because I could have died in that accident. The case became complicated. From a fracture, it became a lung problem. I had one in four chances to survive. The brilliance of the doctors saved my life. I vomited blood. I've seen that in films, but this happened in real life.
Why are you doing films only with big banners?


This is not true. I am lucky that big banners are choosing me. It is the blessing of my elders. I am not in a position to choose directors. I am still learning. It is just that I am getting a chance to work with them.