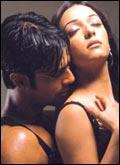 This seems to be a season for thrillers. With
Bhoot
 and
Darna Mana Hai
 which released earlier, and
Sssshhh…
releasing this week, directors are on a roll when it comes to exploring this genre. And while they can be commended for their effort to move beyond romantic screenplays and song-and-dance routines, not many are efficient when it comes to exploiting this category.  
Footpath
, the last film from the Bhatt stable, was a dud at the box office. One hour into the movie, and it doesn't take a rocket scientist to figure out that the latest Bhatt film will probably suffer the same fate.
Inteha
revolves around Nandini (Vidya Mallavde), Tina (Nauheed Cyrusi) and a stranger, Ranbir (
Ashmit Patel
), who enters their lives. While Nauheed had earlier made a quiet debut with
Supari
, this is the first time both Vidya and Ashmit (Amisha Patel's younger brother) face the camera.
The first hour of the movie goes in establishing the plot. Nandini leaves the bright lights of Mumbai to settle in the hill town of Koti (which is actually Ooty) to look after her younger sister Tina after the demise of their father. Tina is a spoilt brat who despises elder sister -- she thinks she is interfering and should mind her own business. Isn't that what younger sisters usually think?
| | |
| --- | --- |
| | More on Rediff: |
| | |
Anyway, Tina finds out she's being watched and photographed by a young handsome stranger who seems rather taken with her. When she finally meets him face-to-face, she is smitten by his dark, dangerous looks. And why not? Ashmit has, after all, taken the trouble of not shaving throughout the movie to maintain that 'look'.
While Tina and Ranbir find passion, Nandini brews tension. She does not trust the stranger (we don't know anything about his past, she says). But she tries to know him better to make Tina happy. Then, the twist -- a murder in a hotel convinces Nandini that all is not hunky-dory with the hunk. She begins to uncover clues to Ranbir's dark past.
As Nandini gets closer to Ranbir's real identity, Tina refuses to believe her sister. Ranbir threatens Nandini until she has to apologise for reporting him to the police by saying sorry. S-O-R-R-Y!
Nandini is helpless. Especially when her life is threatened. Finally, she signs everything over to little sister and seems to head out of town. What she actually does is search for more clues to Ranbir. This is one enthusiastic elder sister, that's for sure!
Post-interval, the movie uses every plot in the book to convince us that it's a thriller. Nandini gets chased in a cemetery, fights snakes in a hole, her friend gets killed. And it's not over yet. Since Nandini decides to do all the investigating after dark by the light of a torch, there's always a figure following her. But she manages to escape every time.
The loopholes are not only many, they are gaping. For example:
The police inspector who comes to arrest Ranbir on Nandini's suspicion says the murder was committed at Hotel Blue Diamond, when it's actually Blue Star.
The heavily borrowed shock tactics from
I Know What You Did Last Summer
and
Fear
are not impressive. The man with the mask and the axe looks very similar to the hook-bearing killer of
I Know What You Did…
Ranbir's poor modus operandi. He's shown as a smooth operator but leaves clues all over the countryside.
The killer (I won't spoil the mystery!) murdering his wives in the same fashion. How does he find cliffs conveniently located wherever he goes? (I guess he sticks to hill locations).
The caretaker of Ranbir's earlier house spills the beans to Nandini. What was he doing all the while? Has he never heard of the police? But I guess that would spoil the fun!
The killer has no apparent motive (of course, they rarely do), but an explanation somewhere would have been more convincing. All he wants is Nandini to apologise to him by saying sorry. S-O-R-R-Y.
The climax just goes on and on (like
Cape Fear
) but has nothing close to it in scare value. Hills and cliffs suddenly give way to a tropical rainforest!
On the brighter side, Ashmit gives a decent performance as a lover/killer but probably could have chosen a better debut vehicle! At times, he looks like a mix of Sanjay Kapoor and Arbaaz Khan, especially with the unshaven look. Be prepared to see more of him in the future.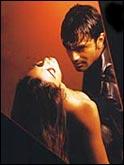 Nauheed plays the part of the spoilt brat with aplomb.
Vidya is convincing as the elder sister. However, why anyone would go to such lengths is hard to imagine. Would you do that for me, my younger sister kept asking!

With thrillers, the key is getting all the ingredients right. Else, it turns a little comical. Unfortunately, that is where Inteha suffers. Besides a few small shocks, there is not much left to the viewer's imagination. In the end, neither the decent music nor the commendable effort from its cast can save Inteha. All I can say is -- you might be better off this Diwali watching the lights in the sky.

Else, be warned, you could be sorry. Really S-O-R-R-Y!!
CREDITS
Cast: Ashmit Patel, Nauheed Cyrusi, Vidya Malavade
Producer: Mukesh Bhatt
Director: Vikram Bhatt
Music: Anu Malik
Lyrics: Rahat Indori, Parveen Bhardwaj, Dev Kohli

Would you like to review this film? Here's your chance!