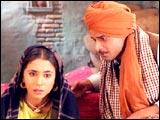 Partition is one of India's most explored themes, more so the partition of Punjab. The rending of the Land of Five Rivers into two parts, solely because one side had a Muslim majority while the other had a Hindu one divided a people who were Sikh, Muslim and Hindu, but who were also Punjabi with a mostly common culture.
Pinjar (Skeleton) is based on a novel by Amrita Pritam. After you see the film, what lingers is the feeling that it is a compelling tale worthy of narration, worthy of being made into a movie.
All too often, Bollywood treats scriptwriters as extras who must be tolerated; the singular belief is that a movie will sell if one puts together a good star cast, story be damned. Pinjar will hopefully change that ridiculous notion; a good story is paramount and can overcome a variety of shortfalls in the movie's narrative.
| | |
| --- | --- |
| | Pinjar coverage on Rediff: |
| | |
Pinjar, which is set in the Partition era, is about the sad position women occupied in our society then, and continue to occupy today. Even when she is the victim of a crime, the woman is the one who is blamed. She must pay the penalty so that the family's izzat (honour) is not tainted.
Puro (Urmila Matondkar), daughter of the wealthy Mohanlal (Kulbushan Kharbanda) and his wife (Lillette Dubey), leads a happy life in Amritsar. Her family returns to its village, Chatwal, west of Amritsar, where her marriage is arranged with Shyamlal's (Alok Nath, once again essaying the quintessential Punjabi lala) son, Ramchand (Sanjay Suri).
Puro's dreams of a happy future are shattered when, one evening, she is kidnapped by Rashid (Manoj Bajpai). He is looking to settle a family score that goes back two generations.
Rashid, who has by now fallen in love with Puro, confines her to his house in the same village. When he tells her they are getting married, a desperate Puro manages to escape.
But an even crueler fate awaits her: her parents tell her they cannot take her back. When a heartbroken Puro heads to the village well, she finds Rashid waiting to take her home. They get married but for, Puro, this marriage is akin to death. She wastes away, becoming a pinjar (skeleton) who exists but has ceased to live.
Elsewhere, in a continuing effort to save the family izzat, Puro's sister Rajjo (Ishaa Koppikar in a cameo that goes beyond item songs) is offered in marriage to Ramchand. But, in a deviation from the book, Ramchand does not agree, so Rajjo is married to Ramchand's cousin, while Puro's brother, Trilok (Priyanshu Chatterjee), marries Ramchand's sister, Lajo (Sandali Sinha).
Puro cannot forget Ramchand and her family and dreams of being re-united with them. Trilok, who has never given up his search for his sister, returns to Chatwal. He soon finds out that she was kidnapped by Rashid and burns Rashid's farm, destroying the harvest. Rashid is broken but refuses to seek revenge, pointing out that if someone's sister had been kidnapped, this was the least he would do in anger.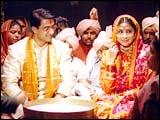 Partition is announced and everyone's world comes crashing down. Ramchand's family is forced to flee eastwards, towards India. On the way, they are attacked by a Muslim mob and a pregnant Lajo, who had returned to her parental home to deliver her first child, is kidnapped by a Muslim.
Puro meets Ramchand at a refugee camp for Hindus and he pleads with her to find his missing sister. Rashid promises to help Puro so that he may redeem himself in her eyes. Puro finds the kidnapped Lajo and helps her escape safely back to her family. The scenes that follow form the climax of the film.
Some aspects of the movie jar on the nerves. Right at the beginning, when the subtitle says the period is August 1946, there is a reference to Viceroy Mountbatten (the viceroy then was Wavell). Also, it would appear that the only reason the movie begins in August 1946 is to show scenes of communal carnage, with a reference to the Direct Action Day (August 16, 1946).
| | |
| --- | --- |
| | More on Rediff: |
| | |
The first half is too full of songs, all part of the need to show a happy family preparing for the daughter's marriage. Alas, marriage scenes -- which offer the director a good opportunity to insert songs and have his cast prance about in designer wear -- seem to have become compulsory in Hindi films. While a few songs are perhaps inevitable, too many detract from the film's overall effect.

Hindi films also find it difficult to handle scenes of joy and grief. To show joy, we have an overdose of songs, Urmila pouting at her brother, ridiculous references to bhaiya and the cast running around in circles. To show tragedy, there is an overdose of tears and melodrama. Nowhere are the emotions shown without exaggeration; in the end, they take away from the storyline and the movie instead of adding to it.

The scenes that show Puro dressed as a typical Muslim salesgirl in the second half are overdone. Worse, the film races through what should have been its most taut and suspense-filled section; the way Puro enters the home where Lajo is being kept prisoner, the way she finds her alone a day later, and the way Lajo is whisked to safety at night without any trouble are all too glib.

But I would reserve the strongest criticism for the climax. In the end, Puro has to make a choice between Rashid and Ramchand. She makes the choice, but the audience is not made to understand her decision. The reason that motivates her decision is missing. This is a grave error and leaves the viewer wondering why she does what she did.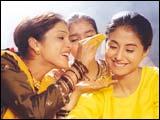 If anyone deserves full marks, it is Muneesh Sappel. His sets are excellent and he has recreated the 1940s with such flair. The faded posters of Mohammad Ali Jinnah, the old trucks, etc, truly transport the viewer back some 50-odd years ago. The cinematography captures the landscape wonderfully.
Pinjar is Dr Chandraprakash Dwivedi's debut directorial venture and, at times, the inexperience shows. It is also a brave effort by Urmila Matondkar to break out of the usual Bollywood routine and do a meaningful film. Individually, both have done a commendable job, especially Matondkar who, in parts, truly excels. But there are times when one feels she needed a better director or that Dwivedi needed an actress with greater emoting abilities.
Credits for some fine acting must go to Manoj Bajpai and Priyanshu Chatterjee, both of who deliver excellent performances.
I would rate this movie four stars out of five. Don't miss it.
CREDITS
Cast: Urmila Matondkar, Manoj Bajpai, Sanjay Suri, Sandali Sinha, Priyanshu Chatterjee, Ishaa Koppikar, Lilette Dubey, Kulbhushan Kharbanda, Farida Jalal, Alok Nath, Seema Biswas, Sudha Shivpuri, the late Dina Pathak
Producer: Lucky Star's Entertainment Ltd
Director: Dr Chandraprakash Dwivedi
Music: Uttam Singh
Lyrics: Gulzar
Action: Sham Kaushal
Choreographer: Rekha Chinni Prakash, Bhushan Lakhandri
Art director, costumes: Muneesh, Sappel
Cinematographer: Santosh Thundivil


Would you like to review this film? Here's your chance!