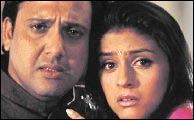 Does Raja Bhaiya have a plot?
Of course, it does! Only, the plot happens to be the most absurd tale anyone could think of.
A rich heiress, Pratibha (Aarti Chhabria), lives in Mumbai. She decides to go to the south Indian hill station Ooty for a holiday. There, her car falls from a hill and she resurfaces in Saharanpur, a small town in Uttar Pradesh, north India.
How on earth did that happen? Well, it happened in the same manner in which she survives a seemingly fatal car accident with just a few dirt spots on her forehead. She has, of course, lost her memory. But she does not forget to pack her mobile phone in the small bundle she carries with her. After all, unlike the other characters that people Raja Bhaiya, she has only lost her memory, not her common sense.
| | |
| --- | --- |
| | More on Rediff! |
| | |
An old widow takes pity on Pratibha and offers her shelter. The widow's only son, Raja (Govinda), is none too pleased. An avowed celibate, he does not want a girl living in his house. He tries his best to get rid of her, but his mother proves smarter. She decides Pratibha -- who has an unlimited wardrobe and is always perfectly made-up -- is ideal bahu material and orders Raja to marry her as soon as possible.

Then, with tears in her eyes, she recalls how she was married to a mentally imbalanced man who made her the world's happiest woman. A soothsayer had predicted that their son, Raja, would marry a mentally imbalanced woman, after which he would become fabulously rich.

They get married. Raja falls in love with her as soon as she rescues his mother from a burning barn on their wedding night. As to what the old lady was doing in the barn -- that's a question only your imagination can answer because the script definitely does not.

But the script does keep in mind that Govinda needs to display his dancing talent, so a few songs are thrown in. Just when you think that THE END will flash onscreen and you can get on with your life -- even if Mrs and Mr Raja don't -- comes the 'twist'.

Pratibha's greedy family -- her uncle, aunt and the aunt's brothers -- have managed to trace her and whisk her back to Mumbai. Raja, of course, has to rescue his wife for which he uses a good dose of buffoonery masquerading as comedy. He even manages to cure his wife of amnesia by slapping her resoundingly. And, finally, the movie ends.

You stagger out of the theatre, stupefied at the absurdities that have been hurled at you in the name of comedy. The loud dialogues continue to ring in your ears. You thank your stars that the movie has at least one praiseworthy point -- it is just two-and-a-half hours long, instead of the usual three hours.

CREDITS
Cast: Govinda, Aarti Chhabria, Sadashiv Amrapurkar
Producer: Kalyani Singh
Director: Raman Kumar
Story, screenplay: Rajeev Kaul, Praful Parekh
Music: Nadeem-Shravan, Surender Sodhi
Lyrics: Sameer, Govinda, Maan Singh Deep
Dances: Chinni Prakash, Rekha Prakash, Shabina Khan



Would you like to review this film? Here's your chance!