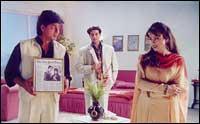 Subhash Ghai
began targetting NRI audiences with
Pardes
; he followed this up with 
Taal
and, then,
Yaadein
.
In Pardes, millionaire NRI Kishorilal (Amrish Puri) is looking for a traditional Indian bride for his son, Rajeev (Apoorva Agnihotri). Shah Rukh Khan is Arjun, Kishorilal's adopted son and Rajeev's close friend. 
Kishorilal visits his farmer friend Surajdev (Alok Nath) in India and is impressed by his daughter, Ganga (Mahima Chaudhry). He asks his friend's permission to make Ganga his bahu. Surajdev agrees.
The Americanised Rajeev sends Arjun to India to check out his prospective bride.
Arjun and Ganga become friends and gradually fall in love.
| | |
| --- | --- |
| | More on Rediff |
| | |
Pardes
scores in the way it portrays the relationship between Ganga and Arjun. Arjun changes from a friend who tries to cover Rajeev's flirtatious lifestyle to a lover who is ready to do anything for his woman, including parting from the family that has adopted him.
Khan, in a very subtle role, is quite impressive. He also brings some comic relief to an otherwise intense movie. Mahima looks innocent and carries her character well. Apoorva Agnihotri is barely noticeable.
Nadeem-Shravan's music is hummable, with almost all the scores being hits even today.
Memorable scenes
* Amrish Puri becoming nostalgic on reaching India.
* When Mahima gives a flower to Rajeev and a petal to Shah Rukh, the latter places it tenderly in his book and shoots a look of jealousy toward Rajeev.
* Who can forget Shah Rukh Khan playing the guitar in Do dil mil rahe hain?
Pardes also sheds light on the lives of NRIs. They are shown to be nostalgic about India and the Indian way of life. On the other hand, their children are shown to find it hard to adapt to the Indian way of life.

Write to us your favourite Subhash Ghai film?

Click here for More Features