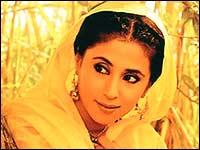 Urmila Matondkar is an actress of substance. Beginning with her transformation from a yet another wannabe actress to the sex symbol in Rangeela to her last release, Bhoot, the actress has never ceased to amaze the audience with her ability to come up with a striking performance.
When Syed Firdaus Ashraf questioned her about her growth as a human being since her Rangeela days, she quipped, "People are asking me mature questions so I am giving mature answers. If no one asks me mature questions, why should I answer for no reason?"  

With her new film, Pinjar, scheduled to release October 24, Urmila takes the opportunity to speak about serious matters like the tensions between India and Pakistan.
"The message of the film is that atrocity does not have any face or religion. It is faceless. We cannot have every decade filled with violence. We, as educated citizens of our countries, should see that these things do not repeat themselves," she says.

Set during Partition, Pinjar is the cinematic adaptation of Amrita Pritam's famous novel of the same name.
Excerpts from the interview:
| | |
| --- | --- |
| | The Pinjar special |
| | |
Tell us about your role in
Pinjar
.
I play a middle-class Hindu Punjabi girl. She sees the trauma of Partition. It affects her life forever.
You are a Maharashtrian. How difficult was it for you to play a Punjabi girl?
It is difficult for any person from Mumbai to understand the rich culture of Punjab. It was difficult to get that look. I have done mostly modern roles in my career so far. I took this role because it was a challenge for me. 
Have you used any Punjabi diction in the film?
No. I wanted to do it but doctor
saab
[
Dr Chandraprakash Dwivedi, the film's director
] said no. He wanted me to be original.
You play both a Hindu and a Muslim girl in the film. Is that true?
That is what Puro's journey in the film is about -- her transition from a girl to a woman. She has to look good, beautiful and believable. At the same time people should be convinced about what she is doing. This is where the beauty of the film lies. She comes into her own. Despite contrary circumstances, she emerges a winner.
Did you meet any Partition or riot-affected victims before doing this role?
No, I could not meet them. But I was told there are some
ashrams
in Jalandhar where such women live. They all waited for their families to call them back. But nobody bothered to look for them. I hope I can go and meet these women in the future.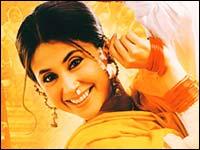 Do you think a film like Pinjar, which is set during Partition, will do well even today?

I feel nothing is achieved in this world by negativity and hatred. As citizens of our country, we should not fall prey to propagating fears in our society. Only a few people spread this hatred. We all must form our own opinion after learning things.
When these things [riots] happen, no community or religion is involved. No religion teaches that might is right or that violence is the best way. Unfortunately, even after 56 years [of independence], all this still happens in the name of religion. So Pinjar is valid even today. The beauty of the film is that it is timeless.

What have you personally learned about Partition during the making of Pinjar?

Today's generation doesn't know what Partition and Independence mean. It is time that they know about those times. They will know from books or from films like Pinjar. Since people don't read much, so they should see Pinjar. It is time to give them the real picture. Pinjar is not biased; it is not a backlash against any religion or country. It is a fair film. It says that atrocity does not have any face or religion. It is faceless. We cannot have every decade filled with violence. We, as educated citizens of our countries, should make sure these things do not repeat themselves.

Did you read Amrita Pritam's novel?

No. I didn't read the novel because I wanted to be close to the script.


| | |
| --- | --- |
| | More on Rediff! |
| | |
Tell us something about your co-stars in Pinjar.

Everybody in the film was good.
The film was shot in the interiors of India. We had a tough time. At least 5,000 villagers used to surround us and watch the shooting of the film. Their excitement cost us a lot because we had to control the crowds. I must say that it was a great experience and everybody performed well.

Are you looking forward to doing only serious roles from now on?
No, I am not. I am still open to singing and dancing. If I am singing and dancing, I want the character to play an important role in the film.

I am getting interesting offers. Now, I am enjoying both kinds of roles. Right after I did Rangeela, I did Judaai.
Can you tell us something about the songs in Pinjar?

They are very Punjabi in flavour. All the songs are written by the best of poets -- Gulzarsaab and Amrita Pritam. They are culturally rich.
It is said Punjabi Muslims and Punjabi Hindus share a similar culture.
Absolutely. You cannot make out the difference between the two. The only difference is that they wear different dupattas. If you see a girl from Punjab, it will be difficult for you to make out whether she is a Punjabi Hindu or Punjabi Muslim.

That was the beauty of the time. Today, we need to remind each other that we are the product of the same nation. They used to mingle with each other very well at that time and it was difficult to distinguish a Hindu from a Muslim.

You visited the Wagah border for Pinjar's music release. What was it like?

It was great. It was very emotional. I have travelled all over the world but had never been emotionally stirred before. When you go there, you understand a lot about what this place went through 56 years ago. You will understand how people travelled to this place 56 years ago. This is where it originates.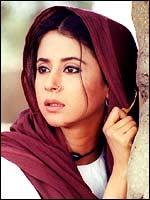 What was it like to meet the Pakistani Rangers at the border?

There was chaos at the time because of the media. I hope Pinjar releases in Pakistan, so that people over there can see it.

Why do you want Pinjar to release in Pakistan?

This film is not biased. It has the right kind of message. The film is not a judgement. It just portrays things as they were back then.
What was it like to work with Dr Chandraprakash Dwivedi?

He is passionate about his work. He created a great ambience on the sets. Every artiste gave his best on the sets because of him.

From Rangeela's ultra-glamorous Mili to Pinjar's traditional Puro, you've come a long way. What do you feel when you look back at your innings as an actress?

I don't look back. I only look back when such questions are thrown at me. I never consciously think of these things. I do my role with conviction. It has been a very interesting journey so far.

Which of your performances has left you most satisfied?
All of them. I tried my best in all the roles. Commercial success was important to me for some time but not after a point. I do my bit properly. And that is important to me.

Are you not interested in the numbers game?

Who is number one? No one. There has been no number one for the last 10 years. The number one zamana [phase] is long gone. Today, you need to have individuality. Either you carve a niche or you do not.

So you are happy being an actress rather than a star?

I just want to do any given role convincingly. When people went to see Bhoot, they were zapped with my performance.

How do you choose a script?

I do whatever is interesting and challenging. The same thing is true with this film [Pinjar]. It is a very challenging role.
What are your expectations from your films?

I don't think of commercial success. I only try to do my role with conviction.
Click here for More Interviews