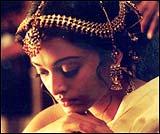 After winning critical acclaim at Locarno, Rituparno Ghosh's Chokher Bali screened at the 34th International Film Festival of India on October 19.
The film, which is a stylised adaptation of Rabindranath Tagore's novel, stars Bollywood beauty Aishwarya Rai and budding actress Raima Sen. It is set in the Bengal of 1902 and explores the travails of a widow in the backdrop of the nascent freedom movement.
Presenting his film Ghosh, who was accompanied by Aishwarya and Raima, said, "This film is not a magnum leap from my earlier themes. It continues with the recurrent human motifs of alienation, solitude and bonding as in my earlier movies."
Some changes were made when the novel was adapted to the screen, the director said at a crowded press conference in New Delhi. "I have given the film a backdrop of nationalism, a sense of creeping rebellion which runs parallel to the journey of the woman protagonist," he said.
Aishwarya, who plays Binodini, a young widow who falls in love with her best friend's husband, said there could not have been a better combination for her first Bengali film. "This was the best combination I could have hoped for -- Rituparno as the director, Tagore's novel and Binodini as the character.
| | |
| --- | --- |
| | More on rediff.com! |
| | |
"The director helped me step into the character easily despite the language barrier. Though I am a South Indian and Bengali was a completely new language for me, I did not face any problems. Rituparno was very patient and helped me understand the character very well."

Ghosh said both Aishwarya and Raima's dialogues were dubbed by well-known Bengali actresses as the Bengali spoken 100 years ago was very different from the language's present form. Had the two been playing contemporary characters, he would have allowed them to dub for themselves, he added.

Raima, who plays the character of Ashalata in the film, said her grandmother, the legendary Bengali actress Suchitra Sen, helped her prepare for the role. "She read the novel and explained the story to me."

"Binodoni is very special to me as it is one of the deepest characters I have essayed till now," Aishwarya said.

The film, shot in 40 days flat with a budget of Rs 2 crores, is about the marginalised sections of society, women in general and widows in particular, Ghosh said.

Click here for More Features