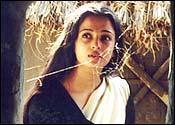 The early part of the twentieth century was a period of upheaval and unrest in the Indian subcontinent. Politically, Bengal was particularly vulnerable: it was facing partition by India's British rulers even as societal and family values tugged and pulled at the heartstrings.
Rabindranath Tagore -- keenly observant and mature in his early forties -- was at a creative high. Quick to sense the restlessness and changes, he penned a series of short stories and novels, including Chokher Bali, Nashtaneer and Gharey Bairey, which portrayed a new discord brewing within the family and society at large as its characters were pitched against an impending political unrest.
Along with the onset of liberal tones came the inevitable: a breakdown of old customs and values leading to an upsurge of promiscuity and lascivious self-indulgence. Widow remarriage, female education and the European missionary influence had a liberating effect. Passion in all forms found itself suddenly out of the closet.
Rituparno Ghosh's film adaptation of Tagore's Chokher Bali dwells on such turn-of-the-century syndromes that seem to reshuffle human society and its beliefs nearly every hundred years, bringing forth a new social order with its new set of interpretations, morals and value systems.
Ghosh deftly weaves an interplay of the six cardinal human passions and of impassioned nationalist ideals in his screenplay, manipulating the years slightly to make use of the political crisis of the age.
Chokher Bali was first published serially in Banga Darshan between 1901 and 1902. Ghosh sets the film between 1902 and 1905. In the film, the 1905 Partition of Bengal is the litmus that tests the troubled waters on the home front.
Mahendra (Prosenjit Chatterjee) and Ashalata's (Raima Sen) conjugal bliss is cloying and suffocating in its sweetness. After the first physical urge and its instant consummation amidst a whirlpool of immature, adolescent sentimentalism, the couple soon exhaust the fire in their relationship.
They fall prey to the first whiff of external influence, the young and beautiful widow Binodini (Aishwarya Rai). The situation is akin to yet another passion play by Tagore, Gharey Bairey, where Nikhilesh exposes his wife to the outer world and she is soon engulfed by the flames of a complex love triangle created by the lust and cunning of Nikhilesh's friend, Sandeep.
In Chokher Bali, Mahendra's mother Rajlakshmi (played by Lily Chakrabarty) is the third woman playing a key role in this complex jigsaw. It is partly her jealousy and meanness that act as powerful catalysts. Mahendra, a victim of the Oedipus complex, is torn between his childhood craving for his mother and his natural youthful urge for his wife's companionship.
By following the novel closely, Tagore and, to an extent, Ghosh, provide an excuse for Mahendra's slips and follies. Ashalata is too naive, simple, and armed with little education to counter the all-perfect Binodini. But reality is often more complex than what meets the eye.
Tagore was heavily influenced by Bankim Chandra Chattopadhyay's Bishbriksha (The Poison Tree), a predecessor to Chokher Bali and published serially in Banga Darshan from the first issue (April 1872). Chattopadhyay makes it amply clear that novelty and change are the key driving forces behind matters of the heart, as Tagore does later in Gharey Bairey.
In Chokher Bali, Binodini reads Bishbriksha. That is where all reference ends.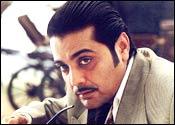 In the film, the Bishbriksha reference is left unattended. Ghosh ends up structuring the complexities in the relationships through a different mode. Binodini actually orders a tree cut to allow air and light into Mahendra and Ashalata's richly furnished but dark and stuffy bedroom.
The interplay of light and shade and the streak of the golden sunset glow that lights up Binodini and Ashalata are beautiful and, at the same time, a clever projection of the various hues and shades of the relationships.
Behari, the fifth character in this drama, has been given little space and time. Tota Raychaudhuri as Behari, Mahendra's childhood friend and confidant, is apt and precise. The character could have been given the scope it needed.
A scar in a conjugal relationship, however shortlived, runs deep enough to create future disharmony. The young bride Ashalata comments resignedly, and with a hint of pessimism, on the nationalists' efforts to prevent the political divide. Young and inexperienced, she can sense the temporary patchwork in her relationship with her husband is a momentary truce. Future tensions and rifts may continue to plague her seemingly blissful little world.
All the characters are inconsistent in their dealings and thought patterns. Rightly so. Inconsistency is what the novel and the film deal with.
Raima Sen excels as Mahendra's naive young bride in a balanced yet singularly sensitive portrayal of her character. Sen deftly expresses Ashalata's low self-esteem, her pains and tribulations. Paradoxically juxtaposed against the freshness of her youth is her simple native wisdom and a spontaneity that is frivolous and at the same time a positive binding force.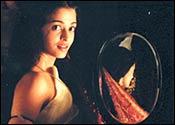 Binodini is a complex character. Her complexities are more inborn than the result of her plight as a lonely young widow. Intelligent, moderately educated, and exceedingly beautiful, Binodini's sense of dignity and mental strength belie her age and social position. She is also an enchantress, a fatal attraction for all those who happen to come close to her.
The director's choice of Aishwarya Rai as Binodini raised eyebrows while the film was being made. It will continue to do so as long as Binodini retains her intriguing appeal.
| | |
| --- | --- |
| | More on Rediff! |
| | |
Perhaps Ghosh equates the quicksilver quality of Rai's screen presence with the ephemeral existence of Binodini in Mahendra's household. Binodini makes an almost silent entry. She is sometimes as unreal and flighty as a wood nymph.
Rai exudes this nymph-like aura all through the film. That is about all she contributes to the role. The various shades in Binodini's character are beyond the reach of many actors. Rai, with her modest acting abilities, just about meets the director's careful instructions regarding dialogue delivery and movement of the eye or hand.
Also, one does feel like questioning (this is more to do with Ghosh's dubbing instructions than Rai's portrayal) Binodini's English-speaking skills. A few years of training at home with an English nun does not normally enable an Indian girl in the first decade of the last century -- unexposed to Western society at large -- to speak English with a perfect accent, stopping only to fumble with the word 'spleen'.
Prosenjit Chatterjee is credible as the 'spoilt' Mahendra driven by a passionate lust for life to an extent where he gets caught in his self-created web.
Ghosh's special ability is his eye for detail and his research. He creates an unquestioned authenticity (with art director Bibi Roy's innate sense of aesthetics and history) in the film, which has been mainly shot indoors (with the ghats of Varanasi and the garden house picnic episodes the only exceptions).
One might choose to relate to Satyajit Ray in both these episodes -- the use of the opera glass and the swing at the picnic with Ray's Charulata, the barge and the ghats of Varanasi with Aparajito and Joy Baba Felunath -- since Ghosh's obsession with Ray is well-known.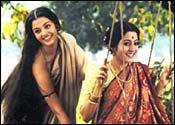 The tea-making scene and the red jacket episode between Binodini and Ashalata are subtle hints at the artificial ostentatiousness in the relationships that the women of the household share with each other. Binodini's control over Ashalata and her love life have been finely portrayed.
The paradoxical association of Ambubachi with menstruation and the rigours of widowhood could have been left unsaid. Perhaps Ghosh was thinking of a larger, uninitiated audience who would fully appreciate the pains of a young widow only through strong visuals.
Debajyoti Mishra's background score is a big draw. His choice of song sequences from Tagore's musical Mayar Khela enhances the film's appeal and essence as a play of passions and a game of enchantment and definitely not as one of a freedom struggle for oppressed women.
The inherent storyteller in Rituparno Ghosh has successfully transcended the bounds of a period piece to make credible interpretations and universal statements.
CREDITS
Cast: Aishwarya Rai, Prosenjit Chatterjee, Raima Sen, Lily Chakravarty, Tota Raychaudhuri
Producers: Shrikant Mohta, Mahendra Soni
Director: Rituparno Ghosh
Music: Debajyoti Mishra
Cinematography: Aveek Mukhopadhyay
Would you like to review this film? Here's your chance!