Jennifer Lopez is in the news again. No, this time it is not because of her on now, off now marriage plans with Ben Affleck.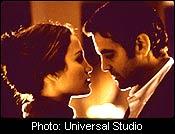 The sexy singer and actress and debonair actor George Clooney have been voted Hollywood's hottest onscreen couple for their action drama Out Of Sight on a poll conducted by US television channel E!
A report in ananova.com adds that the sexy duo ousted the likes of Gregory Peck and Audrey Hepburn to reach the top spot.
The complete top 10 list features:
1. Jennifer Lopez and George Clooney in Out of Sight.
2. Julia Roberts and Richard Gere in Pretty Woman.
3. Audrey Hepburn and Gregory Peck in Roman Holiday.
4. Demi Moore and Patrick Swayze in Ghost.
5. Faye Dunaway and Steve McQueen in The Thomas Crown Affair.
6. Katharine Hepburn and Spencer Tracy in Adam's Rib.
7. Kathleen Turner and William Hurt in Body Heat.
8. Julie Christie and Donald Sutherland in Don't Look Now.
9. Lauren Bacall and Humphrey Bogart in To Have And Have Not.
10. Grace Kelly and Cary Grant in To Catch A Thief.
Emma's divine intervention
Emma Thompson will soon be seen in the much-awaited Harry Potter movie, according to a report in the Guardian Unlimited.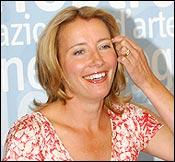 Harry Potter And The Prisoner Of Azkaban is a darker adventure than the previous Sorcerer's Stone and The Chamber of Secrets. Thompson will play the eccentric divination teacher Professor Trelawny.
Directed by Mexican filmmaker Alfonso Cuaron, The Prisoner Of Azkaban features Gary Oldman (Dracula, Leon) in the intriguing garb of Sirius Black.
Based on J K Rowling's phenomenally successful series, this third edition of Potter's adventures comes out on June 4, 2004.

Photo: Getty Images
Click here for More Features