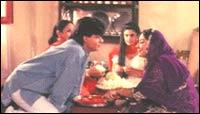 This Diwali, Dilwale Dulhania Le Jayenge created an exceptional record – it has been running non-stop for the last eight years at Mumbai's Maratha Mandir theatre. To celebrate this record, rediff.com presents an excerpt from Anupama Chopra's book on the film.
DDLJ is full of small surprises. Aditya expertly reverses scenes so they end in new places. A morning-after sequence begins on a comic note and ends with Raj and Simran becoming emotionally intimate. Raj and Simran spend a night in the same bed, but it is not the night but the morning that changes their relationship, and our understanding of Raj. Aditya uses an old movie ploy to get Raj and Simran in bed -- on a bitterly cold night, she drinks cognac -- but the scenes that follow are far from hackneyed.
Quite intoxicated after the cognac, Simran seems to break free from the shackles of being Chaudhury Baldev Singh's (Amrish Puri) daughter. She runs down the street, wears a short red miniskirt in the snow, and sings suggestively:
| | |
| --- | --- |
| | Also Read |
| | |
Thandi thandi pavan
Jalta hai yeh badan
Jee chahta hai banalun
Tujhko apna sajan
The breeze is cool
But my body burns
My heart desires
That I should make you my lover
Raj declines the invitation. He changes Simran out of her wet clothes, but goes no further. The next morning, Raj fools Simran into believing that they have made love, but when she breaks down crying, he says, 'I know what you think of me. You think I'm a wastrel.  But I am not scum, Simran. I am a Hindustani and I know what honour means for the Hindustani woman. Not even in my dreams can I imagine doing that to you.'
Baldev defines Indian in the narrow, obvious way -- through his clothes, his daily rituals and his strict surveillance of his two daughters and wife. Raj expands the definition. He is unkempt, cocky and even a badmash (scoundrel), but his heart is Hindustani. As Raj Kapoor sang in Shri 420:
Mera joota hai Japani
Yeh patloon Englishtani
Sar pe lal topi Russi
Phir bhi dil hai Hindustani
| | |
| --- | --- |
| | More on rediff.com! |
| | |
My shoes are Japanese
These pants are British
The cap on my head is Russian
But my heart is Indian
What makes an Indian a true Indian are not the externals. It's the dil (heart) that counts. Later in the film, Dharam Veer (Anupam Kher) tells Baldev not to be fooled by his Western clothes -- Dharam Veer almost always wears spiffy pants and cravats -- because he carries India in his heart. Indian values are portable and malleable. The man in the Harley-Davidson leather jacket can be as Hindustani as the man in the dhoti kurta.
A few scenes after the morning-after sequence, Raj reiterates that he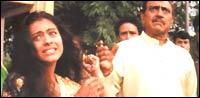 may have been brought up in England but he is Hindustani. The film has by now shifted to Punjab, through a couple of adroit sidesteps past logic. Baldev, furious that Simran has broken his trust by falling in love, somehow sells his business overnight and moves to Punjab, where Raj somehow traces them despite not knowing their address. But Raj and Simran's reunion in a field of swaying yellow mustard is a superb cinematic high. Simran, hearing Raj's mandolin, runs out into the field. The sound has been haunting her but this time the music is real. She sees a cow wearing a Swiss cowbell and then Raj.
In Aditya's first draft, Simran asks Raj, 'What are you doing here?' He replies, 'Do I still have to word it [sic] -- I love you dammit [sic]. I can't live without you. Be mine for ever.' But later, Aditya decided to do away with dialogue. Instead, the heightened emotions are encapsulated in a song. Raj sings:
Tujhe dekha to yeh jana sanam
Pyar hota hai deewana sanam
Since I saw you, I realised
What madness love is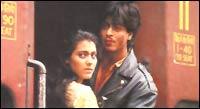 He opens his arms, and Simran -- dressed in virginal white -- runs into them. In the musical interludes, the lovers fantasise about revisiting all the places they have seen in Europe, but this time as a married couple. In this sequence, Aditya borrows liberally from his father's filmic vocabulary. Simran, wearing a diaphanous sari, signs with Raj on snow-covered Swiss mountains. The mustard field is a Hindustani version of the blooming tulip gardens in Yash's Silsila.
When the song is over, Simran's first words to Raj are, 'Take me away from here.' In her mind, there is no option but to elope. Love has altered the obedient girl. She is now willing to rebel. DDLJ is influenced by Sooraj Barjatya's cinema, but Aditya's heroine is different in her willingness to defy the system. Barjatya's women are unusually complaint -- the simpering Suman in Maine Pyar Kiya certainly is. Nisha (Madhuri Dixit) in Barjatya's Hum Aapke Hain Koun..! is a college graduate, but she meekly agrees to marry her widowed brother-in-law so she can look after his newborn child. Unlike them, Simran has spunk.
This text was first published within the book DDLJ (BFI Modern Classics) published by BFI Publishing, London, 2002. It is available in North and South America and Asia (except India) from the University of California Press.
Click here for More Features