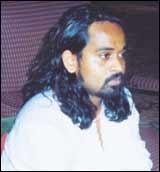 Manish Jha was seated with half-a-dozen first-time filmmakers at a press conference during the Toronto International Film Festival. They were all young, but perhaps not younger than Jha, who began working on his first feature film Matrubhoomi, A Nation Without Women, when he was 23.
Most of the filmmakers, who were from America, Canada and Belgium, struggled to make films for about $100,000. Eyebrows were raised when Jha mentioned he made his film for $500,000 and that too in India. He did not have to mortgage his home or beg his parents to finance the film.
But he said he used up all savings, about $5,000, to make his first movie, A Very Silent Film, and felt so insecure about the whole thing that he shied away from showing it to many friends. He did not tell them he was sending it to Cannes, arguably the world's most prestigious and certainly most glamorous film festival. Its lucky debut electrified his career as the short film about homeless women in India won him an award.
| | |
| --- | --- |
| | Also Read |
| | |
Jha's first feature film, also scripted by him, puts the subject of female infanticide in a startlingly new context. Imagine a day when there is an acute shortage of females of marriageable age. In desperation, an attractive young woman is 'sold' by her father to five brothers.

"It is not a film meant for those who are looking for a happy ending or want to see their women [on screen] in designer jeans," says Jha. But he also said he had no hesitation in making it. He knew many people would not like its subject, but as an artiste he felt he was not in the business of pleasing people in the conventional way.

Some reviewers abroad have compared the film to Shekhar Kapur's Bandit Queen, which was also controversial in India, saying it was equally edgy and provocative. 

In an interview, conducted between screenings of his film in Toronto, he spoke to Arthur J Pais about his journey as a young filmmaker and Bollywood:

Did you always want to be a director?

You know how it is in India. We see so many films. That is our staple entertainment so many of us want to go into films. The good-looking ones think of an acting career. People like me want to go into direction.

Where did you grow up?

I was born in Bihar.  My family is also from Bihar, but we settled in Delhi, where I graduated with a degree in English literature. But cinema was my first passion.

Didn't you think of going to the film institute (Film and Television Institute of India) in Pune?

I did. But there was a strike there. I took up working for television serials in Mumbai. I wasn't happy with the way things were going. I felt I was not learning enough. So I decided to make A Very Silent Film about homeless women. When it won an award at Cannes, everything began to change.

Like what?

I was planning to shoot another documentary but I stopped when I got a call from a French producer who had seen my short film, asking me if I had a script for a feature film.

Did you?

No, but I wrote one in seven days. That became A Nation Without Women. The subject had been in my mind for long.

Isn't it wonderful that people started taking you seriously?

When your film wins an award at Cannes — even if it is a short film — people take you seriously. They don't look at you and your long hair and say, here is another loser. Matrubhoomi was made for about $500,000.

Many first-time directors, even in America, who make films independently, could envy you. What was most satisfying about your financial arrangement?

Two or three people in India and France invested in my film. I did not have to worry about pleasing a distributor or a producer because I had a free rein. I made the film exactly how I wanted to.

Which filmmakers do you admire?

There are a few but no one comes close to matching my regard for Satyajit Ray. I have watched many of his films again and again. I admire the way, the economy and elegance with which he tells a story.

What is the ultimate tribute you can pay to someone like Ray?

If I can make a film one-hundredth as good as any of his better films... Ray made a variety of films. He made films for the young audiences, he made political films and he made films based on literary classics. His range was vast.

What do you have against Bollywood?

I don't condemn Bollywood because there are many Bollywood films that I love, but it disturbs me that there are many films there that perpetuate feudal values. I also listen to many nice Hindi songs. Some of them move me intensely [he hums a couple of lines from films such as Anand (Rajesh Khanna, Amitabh Bachchan) and Teesri Kasam (Raj Kapoor, Waheeda Rehman) which were made before he was born].

Which Bollywood films did you enjoy the most?

Lagaan. I just love that film. I hope to work with Aamir Khan some day.

Which other Bollywood actors do you admire?

Amitabh Bachchan. Every time I see him in Anand, I cry. I would also like to work with him.

Many people in Toronto were upset with your film, weren't they?

I was scared to see so many Indians get upset with the film. It was unnerving because it received a standing ovation and the international critics' prize in Venice. In Toronto, there was quite a bit of negative reaction. I also felt those who were upset about the film were not very big in numbers but the way they protested, the way they walked out of the theatre, they gave the impression many people were walking out. 

Some people who objected to your film said it exaggerates what happens in India, and that the story of one woman married off to five brothers is unbelievable. What would you tell them?

They ought to understand that a filmmaker could overstate something to drive [home] a point. But there are villages in India where it has become difficult to find marriageable women, either because of dowry deaths or female infanticide. There is this phenomenon of missing women. Some of them might have run away to a bigger city to escape oppression. Some might have been murdered. To those who decry my film because of their admiration for India and its culture, I would like to ask how these awful things happen in a rich and noble culture?

You said at a press conference that you made this film because of your mother. Tell us more.

My mother kept the family running. My father was mostly away from home because of his job. My mother was uneducated. Sometimes I say that she was not spoiled by education. At home, she was so powerful. I had seen many other women like her who held a family so well. But look outside and see how many times women are treated badly. Not to forget the women who are treated badly in their homes, too. That is how I started thinking of writing a story that would shake up people in their attitude towards women.

What kind of a release will Matrubhoomi have in India?

People like me are happy with the growth of multiplexes in large cities. We want to release the film in a few cities in the smaller theatre so that a smaller film like Matrubhoomi has breathing time. We hope that the word of mouth will get more people to see it.

Would it have an appeal outside the big cities?

Ideally, I would like to see the film reach every city and town.

What is your next film?

It will deal with Muslims, the way they are perceived and judged after September 11.

Will it deal with the Muslims in America?

Not directly. It will be basically about Muslims in India, but just as in Matrubhoomi I have dealt with the exploitation of women in India in the hope that women who are exploited everywhere else, including America, will think about it [the exploitation]. My next film will also have a universal theme.

A lot of good things have happened to you in the last two years. What do you enjoy most among them?

I don't have to get up in the morning thinking of going to work [laughs].

Click here for More Interviews