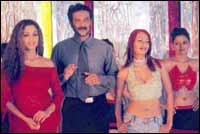 Film
:
Ishq Qayamat
Time
: 11 am.
Venue
: Andheri's MBC studio, Mumbai.
Action
: Chaos reigns in studio 9. People run in and out carrying props. There are wires everywhere.
Director V Menon tests the sound system. "Song!" he yells. The song starts, 'Aaja...'
"Cut!" he yells again. He asks somebody to increase the volume. Not satisfied, he then wants it decreased until he finds the perfect pitch. Meanwhile, another man shouts, "Reduce the AC [air conditioner]!"
A spotboy goes around supplying tea and water to anyone who asks.

A lightman sits on the scaffolding near the roof, preparing a tobacco chew. He yawns as he adjusts the lights according to the instructions shouted from below.
| | |
| --- | --- |
| | More on rediff.com! |
| | |
Scene: Two men are having a drink at a hotel. The camera focuses on them.
An extra explains, "They are dummies to help the cinematographer focus. The stars will come down later." The dressing rooms are located on the floor above the set.
Choreographer Dilip Mistry, whom everyone calls Masterji, is demonstrating a few dance steps to some young boys and girls dressed in bright costumes. He is preparing them for the song sequence that will be shot today. The dancers kid around between rehearsals; they seem to be enjoying themselves.
Menon yells a third time. "Call the artistes."
Suman Ranganathan walks in, wearing a shimmering red dress. She is followed by her make-up man, who carries a mirror. She checks herself in the mirror every now and then. She sits near the director.
Milind Gunaji walks in next. Someone hands him a coat and he wears it. He looks like a professor. He asks Menon, "My waist won't show, na? I'm not wearing a belt." The director assures him it won't.
A clapper boy gives the clap. There is silence on the sets.
"Song!"
The music begins. Milind affectionately holds Suman's hand. They turn together and look away from the camera.
The director wants a retake because there was a fly hovering near their faces.
Another actor, Deepak Jethi, and Kashmira Shah arrive on the sets. Deepak is tall and has a French beard. Kashmira, who is wearing jeans and a green top, joins the girls on the dance floor. Masterji takes her through the steps. He leads the girls up and down a staircase. After practising innumerable times, everyone gets it right.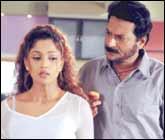 Story: Dialogue writer Dr Deepak Shah outlines the plot. A married couple, played by Suman and Milind, are very much in love with each other. Since Milind is busy at work, Suman decides to return to college. There, she meets Deepak's character and becomes intimate with him. Later, she feels guilty and tries to end the relationship. Soon after, she gets a phone call from a woman threatening to reveal the illicit relationship. The rest of the film revolves around blackmail.
Cast and crew: In-between sending smses through her red mobile phone, Suman reveals the film has many mysterious moments and will keep the audience curious till the end. The actress has recently been seen in varied roles, like a mother in Ravi Chopra's Baghban and a prostitute in Jai Prakash's Market. In one of her upcoming films Dhaar, she plays a psychopath.
Suman says she was thilled to have got the opportunity to work with Amitabh Bachchan and Hema Malini in Baghban. She laughs when she recalls how she and the latter would chat in Tamil and how Bachchan would object because he could not understand what they were saying. When they offered to teach him, he declined saying they might teach him bad words.

Suman returns to her dressing room using a rickety staircase.
Milind takes over the conversation. "You cannot compare my role here to my role in Fareb and say I played a negative role there and a positive one here. How do you know I will be positive throughout this film? Anyway, I will not tell you the end now."
The director is certain his film will do well; he says its pace is its main asset. "It is a marriage thriller. The wife slips for a second and that destroys her life. The audience will not even have time to think," he says. 
The film is scheduled for a February 2004 release. It is being be shot in Mumbai and Kerala. The story and screenplay are credited to the director's brother, Raghu Menon. Bobby Rehman has scored the music. Cameraman Ashok Chakravarty claims the film will have a unique look; they will also use graphics.

Producer S B Rana arrives on the sets with a big black suitcase. When asked if it is full of cash, he laughs.
"Last rehearsal. Shall we start?" This time, it's Masterji who's shouting.
The lightman near the roof continues to yawn as the troupe goes through the steps yet again.
Click here for More Features