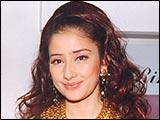 I had this really bad dream yesterday.
Someone had tied me to a chair and was brandishing a cane saying, "You have to review Market."
In my dreams (actually, it's more like a nightmare) there is murder, mayhem, loud dialogues, repeated use of the word 'prostitute' (and its not so attractive Hindi counterpart), ugly men in different coital positions, leery cops, high class call girls, effeminate business managers, shady killers and dons who have a turn of the heart.
| | |
| --- | --- |
| | More on Market! |
| | |
Cut to Hyderabad. Mostly, my nightmare is about an innocent girl Muskaan (Manisha Koirala) who is wed off to a sheikh (Kabir Bedi) at a young age, abused and then divorced. Muskaan is finally found by a friendly Samaritan who leads her to a
kotha
in Mehndi Bazaar, where she makes her life.
But Muskaan hasn't forgotten the injustice done to her by the evil sheikh and continues to fight him in a long drawn court battle. Which she loses. She is then forced to leave Hyderabad because the brothel she works in is raided.
Cut to Mumbai. The hotel Muskaan has taken shelter in is raided and she lands in jail. Enter corrupt police officer Sayaji Shinde who introduces her to a pimp (aka business manager) Juicy.
Muskaan is transformed into a high-class call girl Mallika with the help of two of Juicy's favourite girls -- Lisa (Suman Ranganathan) and Isha (Shweta Menon). Cut to dance number. Enter Babloo Pandey (Aryan Vaid). Wanted for several crimes (as he boasts to Mallika).
Intermission.
| | |
| --- | --- |
| | Would you like to: |
| | |
I go into the ladies restroom to check my eyes. I look like I've just gulped down several shots of vodka. They're red and swollen. But it's not the movie. Really.
Post-interval, it's time for the underworld dons to step in. A horrible guy called Anthony Kalia (Makrand Despande) is threatening Isha for reasons unknown. Lisa warns him off. But it's too late. Lisa makes a call to her godfather Anna (Govind Namdeo) in Dubai and Anthony makes his exit from the world.
I'm still there though. Trying hard to keep my eyes on the action.
Cut to Dubai. Lisa and Mallika land up in this Middle Eastern city for a dance show. Mallika meets Babloo again, who has lost his heart to her. She also bumps into her ex-husband, the evil sheikh. This time, she is determined to take revenge. She finds the sheikh has hired someone to kill her. And that someone is none other than Anna. So what happens in the end? Does Muskaan aka Mallika get her vengeance?
I hope you have the patience to find out. The only reason I did was because of the image of the cane. And the large sign that said I could not leave the hall.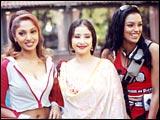 The plot has its heart in the right place. A tale about a wronged girl and her path to vengeance has promise. But many twists and sub-twists later, you're praying for patience. It's not really confusing, it just tries to do too much. With too many characters. And some of them threaten to break the noise barrier with their dialogues at times. That's where it gets taxing. There are a few songs to give you a break, but nothing eminently remarkable.
Now for some redeeming points.
Manisha is one of them. While she has made a few strange choices recently when it comes to roles, she delivers a competent performance. Except for that really loud climax (pun unintended). Directors can't seem to resist that one loud scene in which the wronged woman gives it all she's got.
The girl who plays the young Muskaan also deserves a pat on the back for being able to go through some pretty unappealing scenes. But the two who actually got claps from the audience were Sayaji Shinde and Makrand Despande. People can't seem to get enough of them in evil-spewing roles. The dialogues, laden with profanities and references to different body parts, seemed to win a lot of brownie points. At least, the men in the audience got a hearty laugh.
| | |
| --- | --- |
| | More on rediff.com! |
| | |
Suman Ranganathan and Shweta Menon were quite comfortable in their glamorous and sexy look. With their modelling backgrounds, they didn't need much effort.
Aryan Vaid tries hard to pull off his part as a dangerous killer from Kanpur, right down to the bhai accent. That I could buy. But Babloo? Surely, a hunk and former Mr India like him deserved a better name?!
Ah, well.
I shake myself out of the stupor, still staring at my swollen eyes that look like something out of a Stephen King movie. Unlike the dream I just had, my predicament seems to be for real.
Would YOU like to review this film? Here's your chance!
CREDITS:
Cast: Manisha Koirala, Suman Ranganathan, Shweta Menon, Aryan Vaid, Sayaji Shinde and Makrand Despande
Rama Adhikari, Atif Khan
Director: Jai Prakash
Music: Altaf Raja