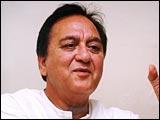 Sunil Dutt's late wife, the famed actress Nargis, is part of his every waking hour; sometimes, she also appears in his dreams.

He sees her in the eyes of his son, actor Sanjay Dutt, in the activities of the cancer foundation he has established in her name, in the reels of the old films where they acted together and which he has lovingly stored in the privacy of their Mumbai home.


| | |
| --- | --- |
| | More on Rediff! |
| | |
Twenty-two years after Nargis lost her battle against cancer, Duttsaab, as he is known to millions of his fans, opened his heart to tell rediff.com about one of Hindi cinema's greatest real life romances.

Asked if he married Nargis when she was on the rebound from her alleged affair with Raj Kapoor, Dutt says simply, "I never knew there was a romance. The only thing I knew was that she came into my life. I was not concerned about her past. I know these questions arise. But I am concerned about the person who comes in my life; what matters from that day on is how true the person is to me. The past is nothing to me."

The setting for our conversation is the luxurious Grosvenor House Hotel in Central London, where Dutt is stopping over on his way back to Mumbai from a fund-raising trip in the United States.

Twenty-four hours earlier, when we met at a gala dinner, the 74-year-old actor-politician had agreed to talk about his wife and family.

When Nargis and Sunil Dutt first met on the sets of Balraj Sahni's Do Bigha Zameen, he was a student and an aspiring actor and she was already an established star. But they did not get married until several years later, soon after they starred as mother and son in Mehboob Khan's 1957 classic, Mother India.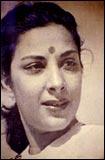 "In my career I met so many movie stars, but starting a life together and building a home goes beyond all other relationships," he explains. "I found in her a human being and a woman who would take care of my family. I found in my wife both compassion and understanding.

"My sister had fallen ill and I was a raw guy; I didn't know any doctors in Bombay where I was then working. Without telling me, she took my sister to a doctor and got her operated. I thought this is a person who will make a better home for me and will do a lot of things for my family, which she did."

The two came from very different backgrounds. Dutt was the son of a Punjabi land-owning family who lost their land to Pakistan and had to rebuild their lives and homes in independent India.

Nargis was the daughter of Jaddanbai, a Muslim thumri singer from Allahabad, and Mohan Babu, a Hindu from Rawalpindi who never achieved his ambition of becoming a doctor.

Some memories of their life together, Dutt says, can never be forgotten. One of them was his wife's unfulfilled ambition to be a doctor.

"My wife wanted to do what her father never finished; she wanted to become a doctor," he explains. "But she was offered a job as an actress at a time when she was too young to decide for herself. Her mother told her to try it and she shot up and became a very great star. But she always wanted to be a doctor and that's why, even when she became a big star, she always used to go to hospitals, especially cancer hospitals, to take care of the patients and meet them and meet the doctors."

It was ironic that when Nargis herself was stricken with cancer, the medical profession could do nothing to save her.

At one point when she lay dying in a New York hospital, the doctors advised Dutt to switch off her life support system because she had been in a coma for months; they warned she would only survive as a vegetable.

He refused. To his amazement, she came out of her coma and seemed to recover. "Her brain scanning was done, there was no damage, she had perfect memory," Dutt recalls. "The only thing she didn't remember was how long she had been in coma and we never told her.

"When she recovered, she always told me I could afford to take her abroad for treatment but there were many people in India who were dying of such illnesses because of lack of treatment. She said, 'If I live, I will go and tell the prime minister that such help should be available to the poor people in every state of our country'."

Fast forward to May 1981. This time, Nargis was dying. Son Sanjay's debut film, Rocky, was to be released on May 7 and Nargis wanted to be present at the premiere.

"She told me, 'Whatever it is, even if you have to carry me on a stretcher or in a wheelchair, I want to see the premiere of my son's movie'," Dutt recalls. "I made all the arrangements and had an ambulance, stretcher and wheelchair. We kept a seat for her next to Sanjay. But she never made it. She died on May 3."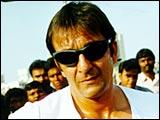 It was Sanjay, their son, who was most affected by his mother's death. "He was young at the time and very attached to his mother," says Dutt. "I don't know what was going on in his mind. Rocky became a hit and he didn't know whether to celebrate or to cry. He was young and he took to drugs."

"I came to know later and I spent three to three-and-a-half years to get him out. I took him to America, I took him everywhere for treatment. When he was clean, I told him, 'Now I am not going to make any movie with you. You are on your own, you have to find a job yourself.'

"For one year, nobody came to him. All he did was play squash and see movies at home. Then, one day, somebody came. He was not a very big filmmaker, but Sanjay accepted the film and never looked back. He rose to such heights till Khalnayak. The media started calling him Amitabh Bachchan's successor.

"Then his problems started, he got involved with the bomb blast case; he was in jail for one-and-a-half months. After he came out, people stopped coming to him again. But he started working. Today, Sanjay is known as the most dependable of actors. In between, his wife died of cancer. So you can imagine a man on whom there is so much stress… He was a young guy, I don't blame him."

Asked how life's tragedies have affected Sanjay's work, Dutt responds, "The pressures have made him mature and he has dissolved those agonies in his work. He has put everything into his work and that has really helped him. He has done it subconsciously.
"Today, if you see his movies, he does any type of role that is given to him perfectly. If it's a comedy, he does comedy. If it's a romantic scene, he does that too. Or he is a toughie. The people of the country have accepted him in all kinds of roles. Even the actors… a man like Amitabh Bachchan has taken Sanjay in his movie [AB Corp's first movie, Ranveer, which was launched on Amitabh's birthday, also stars Amitabh and Abhishek Bachchan].

"I have never heard a complaint against him in the film world. If someone like a lightman or a small worker is getting married, he will give money. He's known to be like this, he has no air of stardom. In the studio, he will share a cup of tea with the lightman or the soundman, he will sip from the same cup. He smokes their bidis."

Sunil Dutt also got involved in politics. Three years after his wife died, he was in New York and was awoken in his hotel room with the news of Mrs Indira Gandhi's assassination.
As his plane hovered over Delhi, he could see the city burning; the riots that ensued after Mrs Gandhi's assassination brought back painful memories of Partition.
 
"When Rajiv Gandhi told me he wanted me to stand for elections, I thought it would be a good launching pad to express my thinking about India's unity," he says. Since then he has been a loyal member of the Congress Party, a successful MP and an indefatigable activist in the cause of national and world peace.

He does not say it in so many words, but what motivates him is the spirit of his wife. She has been the driving force behind his efforts to set up the Nargis Dutt Memorial Fund, which has collected millions of dollars for cancer victims in India. She has been with him every step of his way as an MP. It was Nargis who guided him in the way he cared for their son.

Next month, art imitates life when Sunil Dutt returns to the big screen as his son's father in Vidhu Vinod Chopra's Munnabhai MBBS.

It is only a small role, Duttsaab explains, but he is doing it because he loves his son and he knows Nargis would approve.


Click here for More Features