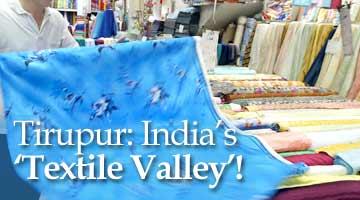 Part I: Boom time for Indian textiles!
Part II: New textiles era: How will India cope?
Quota-based curbs for textile exports to the United States and European nations were lifted on January 1, 2005.
With the restrictions off and globalisation in full swing, the Indian industry is now exposed to global competition. Indian manufacturers and exporters now have to compete with the global players and also face emerging tariff and non-tariff barriers.
So what will the manufacturers and exporters have to do? With its speed of operation, skill, quality and low-cost labour, the industry is now gearing up for the quota-free regime.
rediff.com brings to you the third part of this special series on what the lifting of quota restrictions means to the Indian textile industry.
---
If Bangalore can be India's Silicon Valley, Tirupur can be our Textile Valley," points out K Palaniraman, a garment manufacturer in India's textiles hot-spot in Tamil Nadu.
There is robust logic in Palaniraman's argument. Manufacturers like him believe that just like the technology boom that swept across cities like Bangalore in the last decade, there will be a textiles boom in India in the coming years following the dismantling of the Multi-Fibre Agreement on international textiles trade.
Palaniraman has seen Tirupur's growth over the years. In the beginning, in the 1970s, he recalls, he operated from a one-room shed and did the knitting himself. Today, he employs dozens of workers and has imported machinery for the knitting and dyeing jobs.
Palaniraman is all geared up to meet the new challenge: produce the best quality technical textiles for a global marketplace.
Like him, garment exporters in Tirupur are all resurgent.
Look at some facts on Tirupur's garment industry:
Tirupur is one of the largest foreign exchange earning towns in India. Last year, the export turnover from the town was more than Rs 5,000 crore (Rs 50 billion). There are some 7,000 garment units in the town that provides employment opportunity to close to one million people.

The first spot of any international buyer for Indian garments is Tirupur. Buyers from 35 countries frequently visit Tirupur. Tirupur can deliver customised samples in less than 12 hours; half a million pieces in a matter of days.

Fifty-six per cent of India's total knitwear exports come from Tirupur. The Export Import Policy of 2002-2007 makes laudable tribute to Tirupur for its contribution to the export efforts and calls it a 'Town of Export Excellence.'
According to, A Sakthivel, President, Tirupur Exporters Association, the first hosiery factory with hand-operated machines was set up in Tirupur in 1935.
"For more than 30 years, garment manufacturers in the town were producing mainly grey and bleached banians (vests)," he says.
It was in the late 1960s that the industry slowly diversified into manufacturing other inner garments, including banians and underwears, consumed largely by the domestic market.
"But Tirupur's fortunes took a dramatic turn in the late 1970s when we began exporting our items," says Sakthivel.
He recalls it all began when some exporters in Mumbai introduced an Italian, Antony Verona, to Tirupur. "Verona began importing woven garments from Tirupur and he introduced more Italian businessmen into trade with Tirupur," he says.
Sakthivel says these days there is no competitor to Tirupur in the garments industry in India.
But there is a darker side to Tirupur. Amidst the prosperity that has befallen this textile town, many ills afflict it. These include potholed roads, acute shortage of water, environmental pollution and virtually non-existent sewage systems.
The discharge of salts in effluent from the dyeing factories in Tirupur has led to large-scale environmental degradation.
Environmentalist P K Sundaran says the huge textiles manufacturing is concentrated in a small geographical area in Tirupur that it has exerted extreme pressure on natural resources.
"The groundwater and soil fertility levels in Tirupur are very low. The textiles industry has progressed here at the cost of the environment," Sundaran points out.
The Save Water Forum Sundaram heads has conducted a study that says the level of Total Dissolved Solids in the groundwater has gone up to 5,000 to 6,000 milligrams per litre.
The water scarcity is so acute in the town that water for dyeing units is fetched in tankers from as far as 20 kilometres by the garment units.
But Sakthivel says the water problem is one serious issue that the industry needs to get solved quickly. A water supply project to make good quality water available for wet processing has already has taken shape in public-private partnership.
The New Tirupur Area Development Corporation Ltd is implementing this project.
It is not just water scarcity alone that worries Tirupur's garment makers.
Some of them say although quota restrictions have been dismantled, domestic textile players continue to be caught in archaic Indian government regulations.
Consider this: Under the 'Handloom Reservation Order,' that the government has issued, production of 11 items including non-terry towels and varieties of bed sheets has been reserved exclusively for the handloom sector. A regular garment maker cannot produce and sell these items, which they say has huge export potential.
There is also the 'Hank Yarn Obligation Order' from the government which stipulates that 40 per cent of the cotton yarn produced by every garment unit in the country has to be in hank form for use by the handloom sector.
"But the real problem that the government does not understand is that there is no market for the hank yarn," says an exporter.
According to textile industry estimates, the unsold hank yarn stock currently stands at about 18 million kg.
Design: Rahil Shaikh