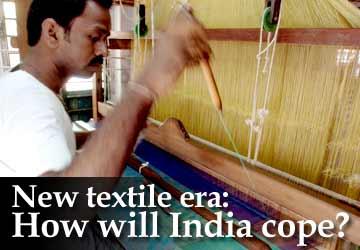 Part I: Tirupur pulsates as textile quotas go
Quota-based curbs for textile exports to the United States and European nations were lifted on January 1, 2005.
With the restrictions off and globalisation in full swing, the Indian industry is now exposed to global competition. Indian manufacturers and exporters now have to compete with the global players and also face emerging tariff and non-tariff barriers.
Today, rediff.com brings to you the second part of this special series on what the lifting of quota restrictions means to the Indian textile industry, how will it affect those involved in the sector and what lies ahead.
---
On January 1, the Indian textile industry was liberated from quota restrictions.
What were these restrictions?
For more than three decades now, the Multi-Fibre Arrangement-governed world trade in textiles and clothing.
Under the MFA, many industrial countries, through bilateral agreements or unilateral actions, established quotas on imports of textiles and clothing from more competitive developing countries.
MFA was to initially operate for a limited period of four years and was primarily meant to provide breathing time to the textile industries of the developed countries to make structural readjustments.
But the MFA quota regime got extended time and again for varying periods.
From 1987 onwards, vegetable fibres and silk-blend products were added to the scope of MFA.
However, the integration of the textile sector into the mainstream of World Trade Organisation (General Agreement on Tariffs and Trade, 1994) disciplines was embodied in an Agreement on Textiles and Clothing, which was negotiated during the Uruguay Round.
The Agreement on Textiles and Clothing was a major boon for countries like India as exports of textiles account for about 20 per cent of total exports from the country and represent the largest net foreign exchange earner.
What is the size of India's textile industry?
The textile industry in India covers a wide gamut of activities ranging from production of raw material like cotton, jute, silk and wool to providing high value-added products such as fabrics and garments to consumers.

The industry uses a wide variety of fibres ranging from natural fibres like cotton, jute, silk and wool to man made fibres like polyester, viscose, acrylic and multiple blends of such fibres and filament yarn.

The textile industry plays a significant role in Indian economy by providing direct employment to an estimated 35 million people, by contributing 4 per cent of GDP and accounting for 35 per cent of gross export earnings. The textile sector contributes 14 per cent of the value-addition in the manufacturing sector.

Textile exports during the period of April-February 2003-2004 amounted to $11,698.5 million as against $11,142.2 million during the same period in the previous year, showing an increase of around 5 per cent.

Estimates say that the textile sector might achieve about 15 to 18 per cent growth this year following dismantling of MFA.
Now that the quantitative restrictions are all gone in this huge industry, has it changed the way the garment manufacturers are operating these days? Are the foreign orders for Indian garment exporters going up?
"Nothing dramatic has happened in the textiles exports as of now. There is no deluge of orders. But it I think it will take somes time for the liberated textiles sector to boom," points out K Badrinath, a leading exporter of knitted garments from Tirupur in Tamil Nadu.
Exporters like Badrinath do not expect huge orders in the immediate months.
"But we have ramped up our production capacities and are waiting for the big business to come by," he said.
Textile exporters from the garment hot-spot of Tirupur are keeping their fingers crossed.
Many of them as bullish on new export enquiries that have began to trickle in.
"The rush of garment exports in the quota-free regime has not yet happened in the Indian textiles sector. That is because the normal product and export cycle of garments is around 60 days. We expect increased bookings by April," says R Shivram, executive director of the Tirupur-based garment factory Classic Polo.
He says in the liberalised textile era, companies will have to restructure their production capacities to meet export orders.
Textile exporters anticipate huge orders from major American stores and brands. "The biggest change is that large textile firms within India are buying small-scale garment manufacturers to shore up their production facilities," says Tirupur-based textiles consultant Sriravi Raju.
"In the months to come, companies will have to increase the production capacity to face changed global textile trade," he points out.
Already, the Gujarat-based Super Spinning Mills Ltd has moved in to acquire two sick textile mills in Madurai to increase the company's yarn production capacity and to cater to the United States export market.
But there are many challenges ahead. "The competitive advantage that India enjoys now is the low cost of production here. But the real challenge is to develop and offer value-added services to foreign customers, especially in countries like America," says Raju.
Consultants like Raju also add that the textile industry in India will need greater supply-chain efficiencies and flexible labour laws to succeed in the world market.
The Union government has repeatedly said that whatever the state was expected to do for the textile industry has already been done.
Thus, it is now the industry's turn to step into the new world order in the unshackled textiles global market.
Part III: Welcome to India's Textile Valley!
Design: Rahil Shaikh