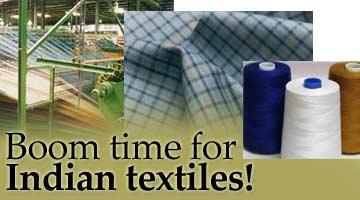 India's textile sector is the country's second largest industry, after agriculture. It provides direct employment to about 35 million people. It is also India's largest foreign export earner, accounting for 35 per cent of the gross export earnings in trade.
Trade restrictions had hitherto kept the textile industry from soaring to the heights it is capable of. But all that changed from January 1, 2005.
Quota-based restrictions for textile exports to the United States and European nations were lifted on January 1. The Indian textile industry now has the opportunity to realise its full potential and the sector is already eyeing an export target of $50 billion by 2010.
But with quotas having been removed and globalisation in full swing, the market is now exposed to global competition. Indian manufacturers and exporters now have to compete with the global players and also face emerging tariff and non-tariff barriers.
Yet with its speed of operation, skill, quality of products and low-cost labour, the industry is gearing up to reap rich rewards in the new era.
Nowhere is the buzz about the new textile era more palpable than in the garment hot-spot Tirupur in Tamil Nadu.
Beginning today, rediff.com brings you a special series on what the lifting of quota restrictions means to the Indian textile industry, how it will affect those involved in the sector and what lies ahead.

---
An 18-hole golf course in the dusty, water-starved town of Tirupur in Tamil Nadu is proof of the changing times in India's textiles industry.
Let alone a golf course, even a golf club in Tirupur would have been unimaginable some years ago.
"But we have realised that such facilities are essential to venture into the new world and conquer the global market," points out K P Pannerselvam, a textile manufacturer in Tirupur.
The quota system restrictions that had hitherto shackled the Indian textile sector were removed from January 1, 2005. Dismantling of the quota system that restricted exports of textiles from poor nations to rich ones has now thrown open a door of huge opportunity for India.
Like in the information technology sector, the textiles business too is experiencing a big boom. Nowhere is this more palpable than in Tirupur, India's long-time export hub for knitted garments.
Nearly 60 per cent of the country's total knitwear exports come from Tirupur.
Every month, buyers from more than 35 countries visit Tirupur because the town can deliver customised samples of knitted garments in less than 12 hours; and up to half a million pieces in a matter of days.
With the quotas having been lifted, a new enthusiasm pervades Tirupur. Much of it is on display across the town's streets and interiors. The clusters of textile manufactures across the streets after the dismantling of the multi-fibre agreement wear a different, vibrant look.
New, modern apparel parks have sprung up in Tirupur. Earlier, there were tiny shops crammed with old sewing machines in the town's potholed roads. But the old sewing machines are being discarded.
"The biggest result of the removal of the quota system is the decimation of the textile machinery industry in the country," points out P Natarasan, president, South India Imported Machine Knitters Association.
Earlier, machines for knitted garments used to be come from towns like Ludhiana in Punjab. These days, most garment exporters are importing these machines from the United States, Britain, Germany, Japan, Italy, France and Taiwan.
To cope with the change that was coming in, in the last few years, nearly 250 garment manufacturers in Tirupur imported close to 10,000 machines. An imported knitting machine costs anything between Rs 15 lakh and Rs 75 lakh (between Rs 1.5 million to Rs 7.5 million) as against an Indian machine, which is available for Rs 75,000.
But the imported machines, with computerised jacquards, offer productivity levels that are six or seven times higher than those of Indian machines. "Many exporters realised that better and most modern knitted designs are possible only by using such machines. Thus they have dumped Indian machines forever," says S Kannappan, who runs K K Textile Exports in Tirupur.
Manufacturers like Kannappan have invested millions of rupees to meet the new global demand. "You know, in the new system, we are competing with China in the textile exports. So it is a tough battle. Only the best will survive, and that is why I have gone in for modernisation," he says.
Some like Kannappan have visited China to understand how the Chinese textile industry has been growing enormously over the years. "It is amazing. They work very hard and their labour force is very adaptable to change," he says.
The cost of logistics in the Indian textile industry, unlike in China, is notoriously high. Added to this, the inflexibility in labour laws has often discouraged many companies to expand. "But to succeed like China in the new textile world order, we need to improve a lot. And a lot of it is happening in towns like Tirupur," Kannappan adds.
The World Trade Organisation estimates that China-made textile products would now account for half of all American clothing imports as the quota system has been dismantled. Earlier, China's share of the US textile market was 17 per cent.
About India, the WTO says: 'The country could nearly quadruple its share of the US market to 15 per cent from 4 per cent in 2002.' According to a Crisil study, Indian textiles and apparel industry can reach $85 billion by 2010 and needs an investment of Rs 90,000 crore (Rs 900 billion) over the next five years.
The Apparel Export Promotion Organisation says the textile industry might achieve nearly 15 to 18 per cent growth in the next one year following the dismantling of multi-fibre agreement.
The Union textiles ministry has unveiled a white paper -- Vision 2010 -- for the apparel sector, which set the target of $50 billion exports by 2010.
A Sakthivel -- President, Tirupur Exporters Association and Chairman, Apparel Export Promotion Organisation -- says the Indian textile industry has seen an investment of about Rs 50,000 crore (Rs 500 billion) in the last few years.
"Every manufacturer is ramping up capacities to meet the challenges of the quota free regime. Just look at Tirupur for the drastic changes," he points out.
Yes, India's textile industry is drastically changing. On the outskirts of Tirupur has come up a state-of-the-art apparel park: the Netaji Apparel Park. It is a huge expanse of 60 concrete factories that have cost more than Rs 250 crore (Rs 2.5 billion).
Sakthivel says the Netaji Apparel Park is India's first, biggest and most modern textile cluster that matches China's textile industry in production quality and quantity.
There are no power breakdowns and water shortage in the park. The textile units in the park supply their wares to some of the leading retail chains in the West such as Wal Mart, Marks & Spencer, C&A, and others.
"See this, foreign companies are coming to see our new park. All of our overseas customers are highly satisfied with the new garment units that have come up here. We have just changed for the better," says Vadivelu Maran, a leading textile exporter.
The drastic changes in Tirupur are a symbol of the change that is sweeping across many towns and big cities in India.
Like Tirupur, many parts of India are these days buzzing with activity. Most state governments have announced incentives and concessions for setting up apparel parks.
Small and big entrepreneurs are jumping into the fray with frenzied expansion plans:
Welspun India Ltd, one of the world's largest producers of terry towel products, is building a $220 million factory in Gujarat.
Arvind Mills Ltd, Asia's largest producer of denim, is setting up new plants in Bangalore and Ahmedabad.
Gujarat-based Super Spinning Mills Ltd has acquired two sick textile mills in Madurai to cater to the US market.
"India's textile industry is now upbeat. Wait for more action," comments Maran.
Part II: New textiles era: How will India cope?
Part III: Welcome to India's Textile Valley!
Design: Rahil Shaikh