We gave you 6 good reasons for a job switch. Then we outlined top strategies to help kickstart your job hunt.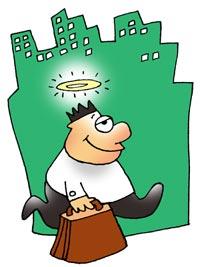 When you do land that new job (if you have not already done so), we give you tips on how to resign gracefully. 

Then comes the test when you start at your new place. You will definitely be a little nervous, excited, apprehensive. But how you conduct yourself in the first few days is critical.  
Remember the cliché, 'The first impression is the last impression'? It holds true at the workplace. How you work, behave and respond to situations in the first few days will be carefully observed and noted.
We tip you off on what you need to know/do to make a great first impression.
Know your company

Be well-informed about the company you work for.
You may be joining a reputed company. However there will always be a culture and history to build on. Know the history behind your new company.
Most importantly, understand your company's vision and what it aspires to be in this industry.
This means that you will have to get an understanding of the greater landscape. What is the competition your company faces? Who are the competitors? What are the challenges faced by your new company? What are the industry trends? 
Surf the Internet and read all the reference material available. Read industry reports available on the company. Visit the company's web site and study it in detail. Reading through trade publications and speaking to tenured employees is also a great source of information. 

Read any books that may have been written by current or former executives of the company.
Know your job profile

Try and understand the main responsibilities of your job. Don't stick with the mentality of 'I will eventually find out'.
Old employees tend to feel insecure when someone new comes in. Be sure you understand where your duties end and someone else's begins or otherwise you would be stepping on other people's toes.

How do you learn about the role? Ask for the 'job description' document that clearly defines what is expected of you in a certain role. This will be available with the HR team of your company. You can also discuss it at length with your new boss.

Understand the office culture

An organisation's culture and systems make up its politics and account for why some places are more conducive to a work environment than others.
Learn how employees in the new company operate, as it may be different from what you're used to. Observe and ask questions first before initiating any change.
Never feel pressured to make quick decisions. You can always say,"I'll get back to you", instead of taking rash decisions that you may regret.

Get to know new colleagues

Some employees in your new company may be jealous that you have landed the position they wanted. Others may be apprehensive that you're going to make changes that may threaten their jobs.
Listen and observe. Take note of your co-workers' interests and skills, as well as their comments about office politics, departmental dynamics and problems. This will help you understand their basic natures and attitude towards work. 
Share a coffee break and lunch with your colleagues. Participate in office functions. Don't be aloof and arrogant. Be good-natured and willing to offer help or guidance to colleagues.
Stick to your word and deliver the expected results. Use "we" more often than "I" when you address colleagues/bosses/subordinates.
Be a go-getter at work

Find solutions, not problems.
Nobody respects people who whine or crib. Keep your personal opinion to yourself. When the management is aware of a problem, they will look for someone who can come up with a solution rather than a whiner.
When you present a problem to your boss, offer some solutions too. Present various scenarios to him that will resolve the issue. Once you both debate and discuss the pros and cons of each, you can come up with a solution.
Accept responsibility
Responsibility is a reflection of your ability. The greater the responsibility you accept, the faster your growth will be in the organisation.
But, in your eagerness to make a good impression, don't take on tasks that you cannot fully comprehend, or cannot make the time for.

If you'd like to become involved or initiate changes, planning is mandatory. Make good use of your free time at work to indulge in self-improvement activities like reading a work-related book, doing research or having a discussion with a senior colleague.
Learn to manage your time well.
Don't shirk responsibility if you mess up. If you make a mistake, own it up and don't offer excuses. And please don't pass the buck.
Seek the advice of others if you can't fix something yourself.

Don't make your private life public

Your colleagues don't need to know about personal attributes or details about your family. What you do in your private time should be just your business. As far as possible, phone calls to your friends or significant other should always be made in private.
With a little bit of planning and preparation, you can establish yourself as a valuable resource in the new organisation. Good luck!
Part I: 6 good reasons for a job switch
Part II: Job hunting? The top strategies
Part III: Quitting your job? How to resign                
Sunder works as a Trainer with a leading global BPO.
How did you adapt to a new job? Were you nervous, excited, indifferent? Share your experiences, tips and suggestions.


Sunder works as a trainer with a leading global BPO.
DON'T MISS!
Job-hunting? Scout here
Illustration: Uttam Ghosh