Do you feel awkward telephoning a new work contact for the first time?

Developing effective phone skills -- to be able to call to confirm an appointment or ask for an interview slot or anything else -- is essential for career success.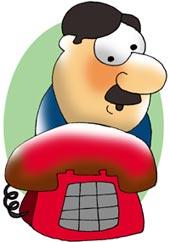 But since we live in an age of information overload, there is no predicting how the person on the other end will react. He may be hostile, choose to hang up, may ask you to call later or may be quite accommodating. 
Time is at a premium and people are stressed out. Given all this, nobody wants to attend to that unexpected call during a busy day. But with a little planning and preparation you can make a good impression over the phone even and achieve the objective of the phone call. Heed these tips.
i. Choose a good time
Put off making business calls when you're too distracted or tired to give it your all. You have exactly one opportunity to make a great first impression and you will not make it if you are not prepared.
You need to be full of positive energy about what you are doing/ asking otherwise your voice will sound dull with no power to persuade or move the listener into action.
Smile when you talk to people on the phone -- it will show up in your voice. Remember: enthusiasm is infectious. Think you are calling a friend. Let your voice be natural, calm, relaxed and easy-going.

Try not to keep the other person on hold for a long time. If possible avoid it altogether. If you are making the call, you should have all the information readily available and not keep someone on hold. If you can't help her right away, tell her you'll call back -- then do so.
ii. Opening the call
Eliminate any disturbing background noise if possible.
Open the call with a standard professional greeting depending on the time of the day. Mention your first name, organisation, and purpose of the call clearly and be as direct as possible. Don't beat around the bush; it can be very irritating.
It's a good idea to rehearse saying the person's name several times BEFORE the phone call. This will help with any pronunciation problems and also personalise the call. Remember to get his/her title right.
Ask if this is a good time for you to be calling when you reach someone. If not, ask when you can reach them again. You will be surprised how many people you can actually get to talk to if you call first thing in the morning.
Do not keep repeating their name during the conversation but stick to the rule of saying the listener's name three times during an 8 to 10 minute conversation.
Leave brief, clear messages on answering systems, giving your name, reason for the call and contact information. Don't forget to leave your phone number, even if the person has it, so she doesn't have to look it up.
iii. Display genuine interest
Allow the other party plenty of time to speak, and use prompt words such as "I see" and "Really" (in a sincere tone, of course). This shows them that you are truly interested in what they have to say. And let's face it, who wouldn't rather speak about themselves than listen to another person?
Avoid acting rushed, even if you are. If you're so stressed that you can't handle the call well, let voice mail come on and pick it up until you've collected yourself.
iv. A variety of response options
If the person you have called needs to get back to you with information, give him/her a variety of options -- e-mail, fax, voice-mail etc.
The objective is to make it easy for them to get back to you.
v. Follow up

Make sure you call back whenever you promised you would. But don't be persistent to the point of sounding desperate.
But timely follow ups will show that you are sincere and committed to the task
Learning good telephone etiquette is extremely important and those who master it stand a better chance of succeeding. So go out there and sizzle up your phone calls.

Sunder works as a trainer with a leading BPO in Delhi. He can be reached at sunder.ramachandran@gmail.com
Job-hunting? Scout here
DON'T MISS!
Illustration: Uttam Ghosh