In 6 good reasons for a job switch, we helped you identify whether the time is ripe to change your job. 

If the answer is yes, then you must start proactively looking.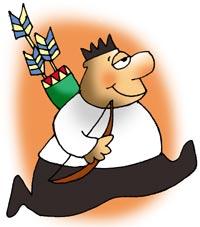 However, keep two things in mind during your job search.
First, do not limit your search to job supplements. Second, be patient or else you may jump from the frying pan into the fire.
Getting ready for the hunt
Make an inventory of your skill sets

Being very clear about the kind of job profile you are looking for is very important. Of course, it is also important to understand your own capabilities.
Start by making a list of likes and dislikes. Then analyse your skills, experience and qualifications.
What would best suit your personality?
What are the skills that you have gained in your current job?
What are your strengths and weaknesses?
What responsibilities do you enjoy?

Know thyself thoroughly. This will ensure that you don't end up moving to the wrong profile and position.

Update your resume

Highlight your most recent accomplishments and any qualifications you may have picked up.
Also, make sure to highlight key skills that prospective employers are seeking.

Make sure you do not fake any facts in your resume. 

If you don't have any experience in the prospective field, it does not mean that you don't have the skills to do the job. If instance, you may have been very good at creative writing at school and college but never took it up professionally. If you choose to join the media, this skill can come in handy. Similarly, you always had a great voice for which you were appreciated. If you look at that skill  seriously, perhaps a career in radio may be your calling.
Avoid redundant details like hobbies and personal interests unless they are directly linked to the job applied for.
Scouting around
Start networking

There are various ways to locate a job. One way is to network. As they say, your network determines your net-worth.

So, talk to as many people as possible who are already in the kind of jobs that you aspire for. Here are some ways to be proactive.
1. Join a professional association

You can consider joining professional bodies like te National HRD Network, which is a community for human resource professionals or the All India Management Association for management professionals. These associations have chapters in many cities and meet frequently to discuss industry relevant issues. Find a fraternity in your field of work and sign up today.
2. Register on online business/social networks

You can register yourself and join some popular online networks, which serve as a good platform to connect for business reasons, however on a more casual basis. 

Some popular ones are:
3. Attend college alumni meets
Your batch mates or seniors may now hold influential positions in the corporate world. Be sure to attend the alumni meets and keep a track of everyone. You never know, a senior from college may be hiring for a position that you are interested in.
Treat networking as an ongoing activity rather than a formal one-time event. Keep in touch with old friends from college and ex-colleagues. Strike up discussions with people you work with. You never know where you will get a lead. These discussions often lead to valuable job leads and contacts.
Register with a recruiter/job consultant
Using a specialised recruiter can ease the pressure and help you target your efforts to only the best opportunities. Recruitment consultants would often be willing to help you for a fee.
Give your consultant as much information as possible with respect to your background, experience and career aspirations. For instance, do you prefer a large company over a small one? Are you open to relocation?
A skilled consultant can help you find a good job faster and also open doors to new opportunities.

Do your own research
It's a good idea is to start learning about the companies that you plan to target and the kind of profiles they offer to employees.

Do research on the industry, protential employers and prospective jobs by reading business newspapers, magazines, books and surf the Internet.

This will provide clarity on job profiles as well as prepare you for job interviews.

Target prospective employers

Go through job advertisements (online and offline) and employment supplements. Draw up a mental picture of the kind of job that you would like to apply for and the companies to target.
You can also get in touch with some prospective employers directly. There are times when companies have openings that they do not advertise for.

Identify a contact from their human resource department and shoot them an e-mail expressing your interest to work for them along with your resume. Your enthusiasm may give you the edge over other candidates.
Keep your job search top secret
Don't let it slip our to colleagues or your boss till you have the next job, in hand. You may face a problem in some professions, which are small, tight and highly networked. Gossip about you planning to leave will also spread like fire. 
Do not let information enter your current office, via office e-mails etc. Only provide your personal e-mail ID to prospective employers and consultants for any communication. And, do not give your office number just your residence and cell phone number.
People at work will find out if you are careless. Trust NO ONE!
Start giving interviews
Don't wait to leave the job in order to start appearing for interviews. You would be in a much better position to negotiate if you have a job in hand.

You may do a good job at presenting yourself well on your resume but you still need to shine through the interview. Keep the following in mind: 
Reach the venue on time and look your professional best. It pays to brush up on your interview etiquette.
Make sure you understand the company and the role prior to your appointment. Take our mock interview quiz.
Carry a copy of your resume along with professional references.
Talk about your key accomplishments in your current job.
Thank them for their time at the end of the interview.
The next day, thank them via e-mail.
You could send another e-mail after a span of one week in case they have not reverted back to you.

Seek guidance
Find yourself a mentor, someone senior whom you can turn to for guidance. S/he can offer you advice in case of any new job offer, before you decide to take the plunge. 

A mentor could be a college professor, an industry leader and even a senior batchmate.
Last but not the least, when in doubt do NOT be afraid to ask for advice.

Part I: 6 good reasons for a job switch
Next: Found a new job? How to resign gracefully
Have you switched jobs before? If yes, how did you go about it? Share your experiences, tips and suggestions.


Sunder works as a trainer with a leading global BPO.
DON'T MISS!
Job-hunting? Scout here
Illustration: Uttam Ghosh