You don't have to wax eloquent or be the modern day equivalent of Shakespeare, Byron or Eliot to score well in Analytical Writing Assessment, a component of the GRE/ GMAT.
Let's dissect this section and figure out how to crack it.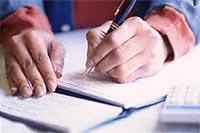 AWA... what's that?
AWA, as Analytical Writing Assessment is popularly referred to, is the third component -- after Verbal and Quantitative Abilities -- that analyses GRE/ GMAT aspirants. In this section, you have to write two essays:
i. Issue Analysis Essay
You will be given a one or two line statement. It could be based on any topic and you need to either support or refute it with suitable examples and data in order to substantiate your stand.
The length of this essay should be around 600 words.
ii. Argument Analysis Essay
You will be given a paragraph that discusses a particular topic. Read it carefully and bring out the logical inconsistencies in the argument propounded in this paragraph. 
The length of this piece should be of around 350 words.
Is AWA very difficult?                   
Those of you who hail from a non-humanities background may not be used to writing essays, but you need not worry about the Analytical Writing Assessment. A few simple strategies will see you through.
Do remember, AWA tests you on your ability to logically analyse your thoughts and express yourself in simple English without much jugglery of words.
Tackling the Issue Analysis Essay
i. How to get ideas
Most examinees worry about how they can put together the right argument for the stand they want to take. The easiest way to list supporting points is by simply asking these questions -- why, what, when and how.
Next, you list the benefits and drawbacks. 
Once you have this information, you will have enough material to write your essay.
ii. How to organise your ideas

Once you jot down your thoughts, segregate them by identifying and arranging the strongest points in descending order of importance.

To begin with, choose three strong points. Then, choose sub-points to support the main points.
In this case too, the same process is to be repeated -- you need to ask why, what, when, benefits, drawbacks, etc. Once you have the answers to these questions, arrange them as suggested above.
iii. How to choose sides?
You will be required to support or refute the statement that has been put to you. Before you make your decision, make sure you have enough reasons to support your stand. 
Remember, you will be marked on the basis of your reasoning power; AWA aims to test your logical reasoning and analytical abilities.
Example: 'Mobile phones are more of a curse than a blessing' could be the statement given to you.
Note down your thoughts on both sides of the issue, then choose the argument that has more strength. 
iv. Introduction and conclusion
After you complete the main part of your essay, you need to work on its introduction and conclusion.
The introduction needs to give a gist of the idea presented in your essay. In other words, it should be like the first paragraph of a newspaper report where, if you only have time to read the first paragraph, it gives you a clear idea of what the report is about.
A good introduction shows your power of expression and the level of control you have over the language. Since you are expressing your opinion, you may start with, 'I strongly believe a mobile phone is more of a curse than a blessing because it is the root cause of greater inconveniences as opposed to advantages.'
Your introduction need not be more than two and three lines. 
Similarly, you could conclude by stating, 'Thus, in my opinion,' followed by a summarised analysis of the logic you have used to support you position.
DON'T MISS!
GRE, GMAT, simplified!
What you must know about the GRE
The n-e-w MBA destination
The world's top science universities
Rituparna Roy Chowdhury specialises in helping aspiring students frame essays/ SOPs and edits thesis for PhD students, conveying their themes with better communication skills. He can be contacted at rituparnaroychowdhury@rediffmail.com.