or all your questions on studying abroad, our international education counselor Karan Gupta has the answers!
Here, he replies to some of our young readers' queries: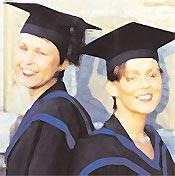 I have a Bachelor Of Business Management degree from Bangalore University.
I now want to pursue my MBA from either UK or the USA. But I have two basic hurdles:
1. Universities abroad do not accept the three-year graduation degree and are asking for four-year graduation degrees.
2. How much work experience do you need to get into a good B-School?
- Pankaj Rathi
Universities in the US require four years of formal education after Class XII.
If you wish to apply to US universities, you could complete your M Com and then apply for admissions. Some universities need M Com I, while others need M Com I and II.
As for UK universities, you can apply for a Master's programme with your three-year degree.
Good schools in the US and UK need three to four years of work experience after graduation.
I intend to enroll for an MS in Computer Science this Fall. I have got admission notices from Worcester Polytechnic Institute and the City College of New York, USA.
Which of these should I choose?
I am also preparing for my visa. Could you provide any suggestions to avoid loopholes at the embassy?
- Srinivas Akasar
Choose your university based on the courses that are offered.
WPI and CCNY both are pretty similar in terms of ranking and accreditation.
There are no loopholes at the embassy. If you can prove you are a serious student going for a valid course and have sufficient funds for your education, you will face no problem in obtaining your student visa.
Make sure you have your GRE, TOEFL and other academic records as well along with your SEVIS receipt and proof of your finances.
I hold a B Com degree, and want to get an MBA from the US or Canada.
How do I go about this? Where can I get a loan to study abroad?
- Prakash Natta
You need to appear for the GMAT and TOEFL examinations if you want to apply for an MBA in the US or Canada.
Also, send your applications by October 2005 if you are applying for August 2006 (a year prior to your anticipated course start date).
Banks generally offer loans up to Rs 15 lakh for overseas education. HSBC Bank is one of the few banks which provides loans of up to Rs 25 lakh.
If you can get a green card holder or a US citizen to co-sign a loan, you could get a student loan at a lower interest rate in the US itself.
I am a graduate in Communicative English. I would like to take up Mass Communication for my post graduation studies abroad.
I am interested in both PR and Advertising. Could you give me a list of the top universities, scholarships and various other options that are available?
Is it better to pursue a post graduation in India? What are the tests I need to take to get admission in foreign universities?
- Lakshmi
The universities with good Mass Communication programmes are as follows:
Depending on whether you are looking for international exposure and have the funds for your education, you can decide on the country you plan to study in.
You also need to submit your GRE and TOEFL scores if you want to apply for a Master's degree in the US. For other countries, the TOEFL is usually enough.
I completed my three-year BCA programme last year. This gives me 15 years of education.
For a Masters degree in the US, you need 16 years of education.
Some education counsellors suggested doing a one-year diploma course in computers to make me eligible to apply. And I did that.
While studying for my BCA, I also started my own software development firm. My software is being used by many Fortune 500 companies.
Will my work experience help overcome my inferior education background?
- Ritesh
Universities in the US require 16 years of education for a Master's degree.
It is recommended that you finish your MCA and then apply. Your diploma course will not be accepted by most universities.
Work experience usually does not count towards fulfilling educational requirements, but you should check individual university requirements before applying.
Got a question for Karan? Please write to us!
Note: Questions may be edited for brevity. Due to a tremendous response, all queries will not be answered.
Disclaimer: While efforts have been made to ensure the accuracy of the information provided in the content, rediff.com or the author shall not be held responsible for any loss caused to any person whatsoever who accesses or uses or is supplied with the content (consisting of articles and information).