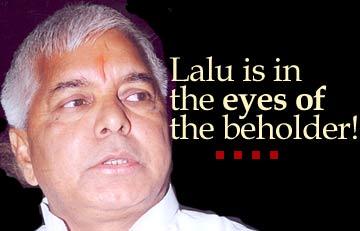 Lalu Prasad Yadav, virtual ruler of Bihar for the last 15 years (though for about half that time, his wife Rabri Devi has been chief minister while Lalu staved off various corruption cases against him) is loved or hated, but never ignored.
Those who love him or hate him do so for a variety of reasons.
He empowered the backward castes (who are also the poorer segments, the link between caste and class being quite strong, with exceptions of course); he ended the rule of the upper castes (through the upper caste- dominated Congress party that forever promised salvation to the Dalits and Muslims and consistently failed them), and kept communal forces at bay even as they engulfed huge parts of India.
'Unless Rabri goes, nothing will happen' | In Bihar, silence is golden
Those who hate him cite his failure to bring about any economic changes in Bihar, which invariably hurts the poor much more than it does the rich; the fact that from being the messiah of the backwards his rule has empowered the Yadav caste at the expense of the others; and that Muslims who voted for him got little in return except their physical safety.
In Darbhanga town, the townfolk are clear: Lalu must go for any change to happen. "I agree that things were bad even before Lalu came, but how long can you go on blaming the past?" asks Vinay Kumar Mishra, who works in a hotel.
"For 15 years Lalu did nothing; worse, he actually let the situation deteriorate."
But his supporters, and there are many, dismiss such allegations against Lalu.
"Tell me, in the previous Atal Bihari Vajpayee government (of the National Democratic Alliance comprising 24 parties; the largest of which was the Bharatiya Janata Party), there were 13 ministers from Bihar. But did any of them do anything for the state?"
The question is posed by Ramnath Yadav of the Gosa village (Bijli panchayat), near Darbhanga. The legislative constituency, Darbhanga Rural, is reserved for a scheduled caste candidate.
'Lalu's a rascal, but we will vote for him' | A village that symbolises Bihar
Gosa is a Yadav dominated village, with a few Dalits. In fact, the entire Darbhanga stretch and surrounding districts in central Bihar is a Yadav-dominated zone; it also includes sizeable numbers of Maithili Brahmins, Dalits, and other backward castes.
This region is seen as Lalu Yadav's turf, and it is easy to see why.
When meeting both Mishra and Ramnath Yadav, I consciously play the devil's advocate, opposing their reasoning. I tell Mishra, "Even if Lalu failed, why has no other minister from the Centre bothered with the state?"
"How can any central government do anything if the state government won't let such projects even get underway?" he asks.
Mishra believes it is in Lalu's reign that crime has gone from bad to worse and that is the single important reason no one wants to invest in Bihar.
"If anyone comes here with money for a project, he will be robbed. Backing the robbers are the police, which is why the robbers and kidnappers never get caught. For all this, Lalu Yadav is responsible most; he let it happen, he let the situation get worse over the years."
The arguments are powerful and voiced by many others too.
But Ramnath Yadav and his fellow Yadav villagers won't have any of it.
"Did any central government ever give Lalu a chance to develop Bihar? From the very beginning, he has been troubled by the central government with cases and with attempts to bring about President's Rule. In such an atmosphere, how can any person do development work?" asks Amerilal Yadav, also a resident of Gosa.
The reference is to the various corruption cases against Lalu Yadav (none have been proven yet) and attempts by the previous NDA government to hoist President's Rule.
'5 million Biharis have left the state'
The Yadavs see a sinister plot to besmirch Lalu. "For so many years, Yashwant Sinha was the finance minister (Sinha used to represent Hazaribagh, which was a part of Bihar earlier and is now part of Jharkhand). Why did he not do anything for Bihar for all these years? As the finance minister, he could have easily done something."
In fact, the only NDA minister spared trenchant criticism is former railway minister Nitish Kumar. "He did make attempts to develop Bihar but he was not kept as minister for long," points out Ramnath Yadav.
Amerilal Yadav insists that Lalu has never been anti-development, it is just that he was never allowed to focus on doing any good work by opponents who feared successful development would increase his popularity.
"After Lalu became railway minister, the first thing he did was to start work on creating more bridges so that the railway lines can be extended. How can you say he is not developing the state?" he asks.
One person in Patna claimed the reason Lalu never bothered to build roads was because his main supporters, the Yadavs, don't need roads.
'Lalu's arrogance will be his downfall'
"They live on the farms. They are not very much affected by the lack of roads. The lack of industry also doesn't affect them directly. But it affects the poorest of the poor who don't own land and desperately need jobs."
In Gosa, Yadav villagers do own much of the adjoining land, anything from a bigha or two to about 20 bighas (1 acre = 2.5 bighas). They have benefited from the land reforms and are now the land-owning community; they clearly derive their power from Lalu Yadav.
It is also clear that land reforms did not percolate all the way down. The Dalits continue to work as landless labourers, either in Bihar or elsewhere.

The Gosa Yadavs insist that now, with the RJD part of the central government and believing that it will return to power in the state, development will take off and Bihar will finally join the highway to prosperity.
"Now he doesn't have to worry about being toppled. He can finally ensure the state's development. That is why we think it is best Lalu returns to power," says Ramnath Yadav.
Image: Rahil Shaikh