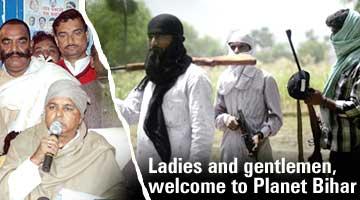 I know most of those reading this will be jealous, but unlike their colleagues, mine, who are in Mumbai, believe in looking out for each other.
During one of the meetings that we had to discuss the Bihar assembly election and who will do what, one of them suggested to me that on February 3 -- when the first phase of polling will be held -- I should visit the booth declared most sensitive by the Election Commission, spend some time there and report on the violence and booth-capturing that takes place.
A bullet or two never killed anyone, right?
Later, in Delhi, I spoke to someone who hails from Jharkhand and asked him if he had any tips for me. I added that I would be travelling to Jehanabad, Arwal, Gaya, etc.
This, in a nutshell, is what he said:
Never, ever travel to the interior areas there. Better still, don't go there at all.
Don't try to be too brave, or you will get shot.
Don't travel after 8pm. There is a very real chance that you will get shot.
Don't be seen close to any candidate. You may get shot.
Avoid the naxals like plague. They don't know where you are from, what you do. And they don't care also. Be careful. You may get shot.
Otherwise everything is fine. There is nothing to worry about.
I never thanked him after that. I would like to take the opportunity to do that now.
I said these jokes – and I hope some of you have at least had a chuckle – for a reason: I had resolved that my first piece from Bihar would not be depressing. Everyone has heard enough bad news about Bihar.
But that resolve has gone.
Unfortunately, Bihar has come to a point where people can feel good about it only by making a twisted joke. In our conscience – the middle-class and upper-middle class conscience – it is like one of those third-rate movies that are remembered precisely because they are so bad.
And in the process we ignore whatever little good there is.
We seldom hear that in the last 12 years or so Bihar has sent the most number of entrants to the civil services. According to a 2003 report in front of me, of the 700 students who qualified for the Indian Administrative Service and the Indian Police Service in the last 10 years, 25 per cent belonged to Bihar (Jharkhand was carved out of Bihar, but that is a different matter).
In fact, in the 1997 examination, Nalanda district alone boasted of 14 entrants into the civil services. An astounding figure by any stretch of imagination. But we don't feel good about it.
The same report also mentions that the state is fully self-dependent on grain production and supplies rice to 13 states in the country. 'Grain merchants in the state have been 'officially' supplying rice to Bhutan, Bangladesh and Nepal,' The Week report adds.
And Bihar is also the leader in the production of spices, not Kerala. Though it may have relinquished the number one position as of now, there is no doubt it is near the top. But we ignore that also.
And as everyone knows, Bihar is also the place Sakyamuni Buddha attained enlightenment; Mahatma Gandhi started the Champaran Satyagraha; and which not too long ago saw leaders like Jayprakash Narain.
But we like jokes, and we concentrate on jokers.
In fact, being 'Bihari' itself has become a joke, a crude one at that.
I remember that a few months ago in Mumbai, I had used 'Bihari' in a headline to describe the people of Bihar. I knew there would be hate mails, but I let it pass.
And sure enough, irked readers wrote in saying that the word 'Bihari' was extremely derogatory, and that that is not the way to refer to people; that they are respectable, intelligent and hard-working.
I belong to Kerala, but was born and brought up in Delhi. Being a Malayalee is a matter of pride to me.
My friends say I resemble a Haryanvi and talk like them. That too is a matter of pride, thank you very much.
In the same way, I am sure that a person from Rajasthan feels proud in being called a Rajasthani; a person from Kashmir wants to be known as a Kashmiri.
And let us not even go towards Punjab or West Bengal -- we know what they think.
But you can't call someone from Bihar a Bihari. It is insulting to some people's ears.
I get the feeling that Bihar is not a part of India. India is shining, people are prospering, making money, having a good time. Bihar is not even a part of this world.
So I say: Welcome to Planet Bihar.
Senior Copy Editor Salil Kumar is in Bihar to cover assembly elections. Wish him luck.