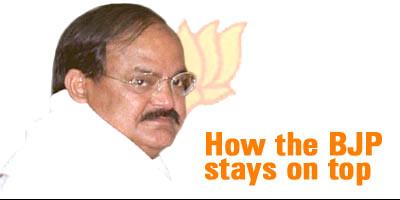 Have you ever wondered how the Bharatiya Janata Party almost always manages to pull the rug from under their opponents' feet?

The answer lies in a building at Delhi's Ashoka Road. Known to everyone as the BJP headquarters, it is now the party war room where the movement of opponents are mapped and strategies formulated.

Entering, one is enveloped by frenzied activity that characterises the place. Dominating it is party chief M Venkaiah Naidu, who sounds anxious.

"Make sure that their (Congress) statement is adequately countered with facts and figures," he says.

"Yes sir," says a voice from the other end of the room, as others carry on with their tasks at hand.
It is early morning and the crackle of excitement is palpable among its 11 occupants. The cell operates from seven in the morning to midnight in three shifts.
| | |
| --- | --- |
| | Also Read |
| | |
Siddharth Nath Singh, joint convener of the election media cell, and Nalin Kohli, media adviser to the party chief, know that Naidu's directions mean another challenging assignment.
The challenge lies in giving party general secretary and spokesman Mukhtar Abbas Naqvi the right kind and amount of information to counter the Congress. All this entails discussions and the chalking out of a strategy.
The war room has a single point agenda. To make sure that Atal Bihari Vajpayee occupies the prime ministerial chair again.

It was at Naidu's direction the party decided neither to spare resources or efforts to make the dream come true. The cell has 10 television sets to monitor various channels, including BBC and CNN.
"This is to ensure we obtain all possible inputs on what is being said by which party, how we can formulate our election strategy and what needs to be done in the overall situation. Basically, we want to leave nothing to chance," Singh says.
The war room has access to Press Trust of India and United News of India news feeds and three dedicated computers for bilingual (English and Hindi) dissemination of the BJP's point of view. Personnel drawn from the BJP's youth wing constantly monitor activity within the war room.
"Ours is a continuous process and sometimes the tensions tell. But we gain confidence when there is a pat on the back by the leadership for a job well done or a move well directed," says Kohli, who many Doordarshan viewers know better as a news reader.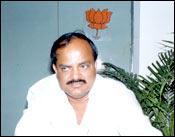 The conveners are neither paid by the BJP nor does the party bear any of their expenses. Both Singh and Kohli joined the BJP and say belief and conviction on 'its overall soundness' attracted them to it.
Singh is the grandson of Lal Bahadur Shastri, the late Congress prime minister. He says he became "disgusted" when Congress chief Sonia Gandhi declared her intention to be the prime ministerial candidate.

He is in charge of ensuring that the SMS campaign is kept on the boil. Whenever a mediaperson receives a SMS about a BJP press conference it is Singh and his team at work.
'Press conf today (18. 3. 2004) at 3.00 PM at 11, Ashoka Road, Siddharth Nath, media cell BJP,' reads a typical party SMS to reporters.
"Apart from reporters covering the BJP beat on a regular basis, our party does not refuse others who present their business cards and insist that we include them on our media mailing list," insists Shambhu, a party worker at the cell.
Shambhu is a constant fixture at Ashoka Road, constantly interacting with reporters, distributing press statements and facilitating party coverage. He even, occasionally, accompanies reporters on outstation assignments.
On an average, nearly 250 SMS messages go out from the media cell to reporters.
Computer operator Pritam and media cell operative Sudhanshu are responsible for keeping the research and documentation department up and running. Dossiers are prepared and maintained to enable the leadership to be in tune with the latest developments.
"Nothing is ignored. Even the most innocuous event is taken cognisance of and that keeps all of us on our toes all the time," Sudhanshu points out.
"We intend to win and we will do so. That much has been conveyed to all in the party by Venkaiahji who has masterminded our election strategy of which the media cell is just one of the instruments," Kohli says, indicating that he and his band of brothers could be the party's leaders of tomorrow.