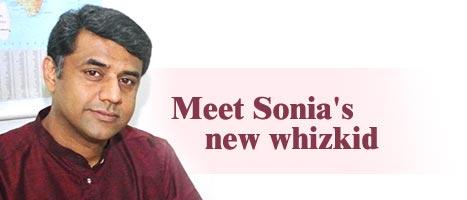 Smoke spiralled from the cigarette dangling in his mouth as his lanky frame sprawled over a small chair behind a battered table in the college students' union office. "I am definitely going to become a professional politician some day," said Rajeev Gowda, then vice-president of the students union at St Joseph's Arts and Science College, one of Bangalore's better-known educational institutions.
Over two decades later, Gowda is preparing to fight his first election as a representative of the Sonia Gandhi-led Indian National Congress. The person he aspires to beat is none other than Karnataka's BJP president and former Union aviation minister, Ananth Kumar. He has not got his ticket yet; officially, nobody has. However, he points out that Bangalore South, the constituency he aspires to, has a voter turnout of only 55%. He insists his candidature will help mobilise at least another 25 per cent of those who do not vote because they are disillusioned with the usual candidates. The other aspirant to a Congress ticket for the same constituency is celebrated writer U R Ananthamurthy.
Gowda's route to politics is somewhat different, as he always promised it would be. In between, we, his campus contemporaries, thought he had succumbed to the temptation of the US.
He was always a bright student. He scored excellent marks in science, but opted for a social sciences degree instead of going in for engineering or medicine. He was a runner-up in the BBC Mastermind quiz contest in 2002.
Yet, to many of his college mates, Gowda had become the God that failed. He had promised to become a don (the academic kind) first and then bring the sharpness of a doctorate in economics to the policy-making process. Instead, he disappeared into American academia for over a decade and became a tenured professor at Oklahoma University. Nobody believed that an academic who had done post-doctoral work at Berkeley and was happily married with two young children would return to battle the rough and tumble world of Indian politics.
When he returned to India three years ago, it was as a professor at the Indian Institute of Management, Bangalore. His American accent seemed to have become a permanent part of his personality. He co-partnered an IT start-up. His contemporaries no longer gave credence to the political aspirations he once espoused.
Then, suddenly, there he was at the Congress brainstorming summit in Shimla last year, having a 20-minute argument with then Madhya Pradesh chief minister Digvijay Singh, creating a buzz in Congress circles because he had been personally invited by Sonia Gandhi. Today, he is looked upon as an upcoming young Congress leader and was chosen to launch the Congress campaign in Guwahati. Gowda recently accepted Sonia Gandhi's offer to head an institute that will impart management training to politicians after the election.
"I always intended to come back and become a politician," says Gowda confidently. "I was just travelling a certain route that I thought was the right one." The route involved an MS in economics from Fordham University in the Bronx and a doctorate from Wharton in public policy making and management. "Originally, I wanted to become a macro economist like [former Union finance minister] Manmohan Singh," he says. "Then I found that was not so easy."
Gowda intends to make good use of his contacts in the US by tapping them for campaign funds. He will shortly launch his own web site, rajeevgowda.com, in which he will publish, among other things, the names of all his political patrons. "NRIs contribute to so many good causes in India. Why not make politics a good cause too?" he asks.
He adds that the campaign limit of Rs 25 lakhs (Rs 2.5 million) per Lok Sabha candidate is unrealistic and will only lead to everyone, including possibly him, hiding the actual amount they have spent. "Everyone knows that the average Lok Sabha candidate spends Rs 2 crores (Rs 25 million) on his or her campaign," he says candidly.
His political speeches today are known for their substance and punch, rather than their fiery rhetoric. "People tell me I have no grassroots support," he says. "Well, why should everyone go that route? We also need people who can bring about structural changes in the system, make the government more citizen-centric, not just organise and mobilise human masses at the grassroots level."
He also has the connections needed to make it to Parliament from Karnataka. Gowda is the son of M V Venkatappa, speaker of Karnataka's recently dissolved assembly and belongs to the majority Vokkaliga community. He has already learnt to make full use of both these advantages; they were partly responsible for his quick and direct access to Sonia Gandhi.
"People in the US and in urban India still say, oh, politics, great way to make money!" he says. "I hope I can change that general feeling of disillusionment with the older generation of politicians by helping to build a more scientific political system."
Image: Uday Kuckian