After a long while, this Friday opens to a Rahul Bose starrer.
The actor, who seems to have one release a year, stars opposite Mallika Sherawat in the romantic comedy, Pyaar Ke Side Effects.
Directed by debutant Saket Choudhary, the film is about a commitment phobic guy whose girlfriend proposes to him.
Rahul Bose talks to Komal Mehta about his film, his past, his future and more.
Tell us about your character Pyaar Ke Side Effects.
I play is Sid, who is a deejay. He is an upmarket, funny, sensitive guy who likes music. But he's commitment phobic. It is like a classic dichotomy where he is a great boyfriend and wonderful partner, but one who does not want to commit or get married.
Are you commitment phobic in real life?
I used to think I was, but I don't think so anymore. I'm not scared of commitments. I think if you have the right partner, they would always give you the freedom you desire.
But, personally, I don't see any reason to get married. Marriage as an institution confers legitimacy on a relationship and most people probably get married because they want to have children and want to give them a legitimate status. For me, the validity or invalidity of a relationship depends only on the quality of that relationship.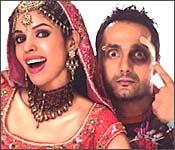 Does your character in the film also think that way?
Yes, in a way. He is forced to think about marriage and commitment when his girlfriend proposes to him.
What was working with Mallika Sherawat like? What did you think of her before you met her?
I had no opinion of Mallika before meeting her. I have seen that people have an opinion of me even before meeting me, and that has always been a disadvantage for me. So I don't like to have opinions of people before meeting them.
From a co-star in a romantic comedy, I'd expect hard work, the ability to share and listen and good comic timing. She had all of these. I know Mallika has this sexy image but, for me, she was somebody I was acting with.
I'm someone who comes to the sets, acts and goes home. There isn't much that I take home except the experiences/ interactions I collect through the social work I do.
What made you sign a mainstream commercial movie again? Are you knowingly gravitating to commercial Bollywood cinema?  
I do films like 15th Park Avenue and White Noise and people say I'm gravitating to doing roles that support fiery lead actresses. Now, people are asking me if I'm gravitating towards doing 'commercial Bollywood' roles.
Have I ever done any one thing all the time? I have always complemented three-four serious art movies with a commercial one.
Bollywood acting essentially requires a little heightened acting. It requires acting muscles that might have been a little rusty. In Thakshak, I played a psycho. In Jhankar Beats, I play this guy who is funny. Both roles were done in a heightened manner. Essentially, I think the difference between Bollywood acting and other acting is the difference between matt and gloss.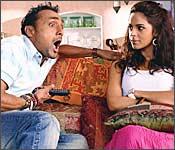 I have never repeated myself. I love to challenge myself and do something I have not done before. I like to work in different genres. I think you will also see me doing an all out action film! I take up a role based on how logical or illogical I think it is.
Pyaar Ke Side Effects had the best romantic comedy script I've ever read, hence I took it up.
Bollywood cinema is changing. Do you think it offers you more possibilities as an actor, writer and director who has always wanted to do something different?
No, I see no possibilities. Most films are still the song-and-dance routines and I find that other so called 'non-song-and-dance-routine' movies are over the top, dishonest and have a self-congratulatory attitude.
What do you enjoy more acting, writing or directing?
I love directing because you are the captain of the ship. You have an opportunity to put out to the world a piece of your head. And when your thought or movie is liked by people, when people are touched by it, intrigued by it and like it, it is the best feeling in the world. It is the most fulfilling creative medium ever.   
What next?
I'm in the processing of adapting a novel and making a screenplay out of it. I will reveal the name of the novel in about a month's time.
Any regrets?
I have no regrets in love. What I desperately regret is not having raised my voice after the 1993 bomb blasts and the Gujurat riots -- not understanding my responsibility towards the country.
What would you have liked to say?
Bombay is a soft target and will remain so as it does better internationally. We are living in the age of terror and terrorism is here to stay. The biggest challenge for the government is to control terrorism. The Israeli model has failed, Israel gets bombed everyday. The government needs to evolve a more competent, permanent and textured approach to battling terrorism.
You are involved in a lot of social work. What made you voice your thoughts on social issues?
I first started working for communal harmony and against gender discrimination. I started my work with an NGO (non-governmental organisation) called Akshara that works for the betterment of Muslim girls. I usually work for causes that affect me.
I've travelled to the Andaman islands 11 times for the rehabilitation and relief work after the tsunami but there was no media coverage. The day I stop feeling the impulse in my heart, I will stop doing it. I won't be a hypocrite.