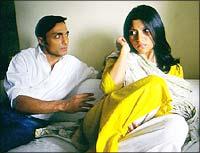 People who know the term schizophrenia, use it sloppily.
It's used to describe everything from an audience taste (Indian viewers are schizophrenics -- they accept everything from No Entry to Black), to even an ice cream (a friend remarked -- 'the taste is bitter and sweet, an interesting schizo touch').
You'll quickly lose the habit, once you see Aparna Sen's new movie, 15 Park Avenue.
The film begins with two sisters, Anjali (Shabana Azmi)  and Mitali (Konkana Sen Sharma) looking for a place called 15 Park Avenue, that we realise is either inaccessible or doesn't exist. We are then introduced to Mithi's life – a strange world within worlds, some that really exist and some that exist only in her head.
| | |
| --- | --- |
| | More on rediff.com ! |
| | |
This 27-year-old believes she has a husband and five children and they all live at 15 PA.
Then, whatever she sees on television or elsewhere -- even Saddam Hussein -- is lovingly incorporated into her imaginary world. Her family, also comprising an ageing mother (Waheeda Rehman) and a maid, try to be patient and not lose their own minds.
The distant family relations tolerate Mithi, while the children are cruelly amused.
With the responsibility of Mithi and her mother, it's interesting how Anjali's (a professor and writer) life is full of full stops and commas. Divorced but in a relationship, she refuses her lover's offer to take a break and escape with him.
While Anjali copes with her emotional life, her mother must deal with ageing and the loss of control that comes with it, while the insensitive maid audaciously brings home a tantrik who mercilessly beats Mithi up.
Her complaint is believed to be another of her fantastical stories.
But there are moments of endearing clarity. Like once when Anjali explains that she is only imagining things, Mithi throws back the question – 'How would you like it if I told you, you're not a professor, only imagining it?' This thought is further carried on in discussions between characters, exploring what is reality and what differentiates it from delusion.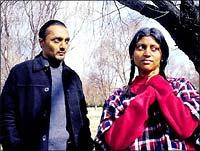 The viewer, quite in love with Mithi by now, wants to know how this disease overcame her once-functional life as a journalist. What you see then makes you feel sick.
We are told that Mithi, on a journalistic assignment, was gangraped. That triggered off the dormant symptoms already present, and she never recovered.
She finds love in the form of Joydeep Roy (Rahul Bose), who, despite her family's aggressive advice, gets engaged to Mithi.
He thinks he is man enough to deal with her disease and turns out he is not. Some time and a note later, he is gone, and Mithi finds solace in her imaginary world, where her kids are named exactly how she and 'Jojo' had planned.
A chance meeting brings them together after more than a decade and a shameful Joydeep (with a wife and kids, all real) wants to help Mithi find 15 Park Avenue.
It must have been daunting to figure out an end to this film, and writer-director Aparna Sen probably thought it was best to leave the film open for individual reading. Since the film's subject is already challenging, this choice risks leaving the viewer confused instead of pensive.
The pace is agonisingly gradual at times, and the dialogue heavily repetitive. On the technical front, the film is dubbed, but the calibre of the actors pulls it though magnificently. The use of ambient sounds is lovely and so is the non-intrusive and sometimes breathtaking soaking-in-Bhutan's-beauty photography.
The dialogue, exemplary in most parts, is irritatingly bookish in others. Example – 'Shall we have some tea?' 'Yes, let's.'
No one says 'Yes, let's', for god's sake! 
Not unless you're in 16th century England having tea and butter cookies. But that's picking too fine a point.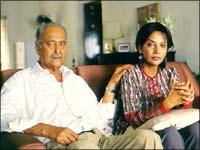 Shabana Azmi thrives in her role; she looks stunning, acts with her heart, and is a pleasure to watch. Each actor, from Rahul Bose to Waheeda Rehman and Kanwaljeet Singh, puts in a spirited performance.
And then there's Konkana Sen Sharma. One falls short of adjectives to describe her performance. I guess the biggest compliment would be to say that no one else could have done this role.
Watch this film to fall in love with her.
Aparna Sen has cemented her credibility as a thinking and engaging filmmaker and has one looking forward to her next film already. Compared to Mr & Mrs Iyer, she is more in command.
There's dry, black humour all over the film, if you care to look for it. There's comedy in the darkest of scenes, if you dare to laugh. As Joydeep himself broods, 'It would have been funny, if it wasn't so sad.'
Watch the film, and forgive the small irregularities and pace. You'll step into another world. Just like our Mithi.