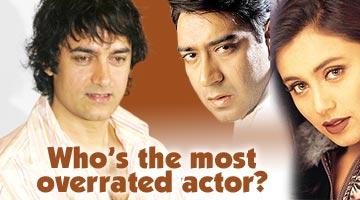 The film industry thrives on superlatives.
One good performance and we immediately elevate some actors to the skies and call them as God's gift to cinema. In the process, we totally ignore their consistent run of mediocre films.
We call Aamir a fine actor, but turn a blind eye to his more disastrous performances (Mela, Mann, Mangal Pandey - hmm. Maybe he should stay away from the letter M).
Ajay Devgan might have drawn critical applause in the past, but a long streak of insufferable films this year (including Kaal, Insan, Blackmail and Main Aisa Hi Hoon) brings him right back to his original non-actor status.
And is Rani Mukerji really as good as all the hype?
Who do you think is India's most overrated actor?