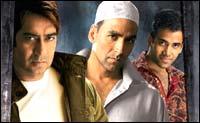 Some films leave you grappling for words. And some films give you a splitting headache. K Subaash's Insan, starring Akshay Kumar, Ajay Devgan, Tusshar Kapoor, Esha Deol, Lara Dutta and Rahul Dev, does both.
The director has chucked almost all possible Bollywood clichés into a cement grinder and hoped to make a structure. Lost brothers, tough cops, liberal sprinklings of communal harmony lessons, slapstick, songs with fluorescent saris flying in from all corners of the screen, swimsuit scenes, the real world of reel — you name it, Insan has it.
The scriptwriter deserves an Oscar, or Padma Shri, or Bharat Ratna, or something to help him retire without writing further. The plot has more holes than the average sieve.
| | |
| --- | --- |
| | More on rediff.com ! |
| | |
Amjad (Akshay Kumar) is an autorickshaw driver who gives aspiring Bollywood aspirants shelter and runs around Heena (Esha Deol) clad in outfits that would make a groom feel overdressed. That is when he is not stopping riots with lectures on true Islam, of course.

Ajit Rathore (Ajay Devgan) is a don't-talk-just-shoot cop sworn to the nation. A lullaby for him is making arrested terrorist leader Masud Ali sing the national anthem, an action provoked by testing the strength of iron bars on Ali's head.

Lara Dutta and Koena Mitra are also in the film, with roles loosely connected with the story. In an interview, Koena asked how a girl could be an item. The answer is her role in Insaan. Besides moving about a house clad in the kind of clothes your mother warned you about, she does precious little.

Please don't yawn, the script's masterstroke is about to be unveiled. Amjad has a brother, Azhar (Rahul Dev), he lost contact with during the Gujarat riots. Azhar is now a terrorist in charge of a mission to free Masud. Amjad, of course, doesn't know, and is happy rain-dancing in the disco with his friend Avinash (Tusshar), Heena, Meghna (Lara) and Tusshar's love Indu (southern actress Laila).

Hang on, the intricate script has too much in it to be told without missing a few crucial irrelevancies. Laila is a village girl who producers want to exploit because she wants to be a heroine.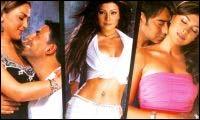 So where were we? Ah yes, Azhar is Masud's trusted lieutenant who had killed Inspector Rathore's wife (Koena).
The climax is a hostage drama, high on action, and the kind of acting that earned several kilos of 5-paisa coins in theatres of yore.
You almost feel sorry for the actors, but Devgan does reasonably well as the tough guy, and Akshay gives his fans what they want.
One must look for positives, hence Insan could be good for you. If you suffer from depression, or are traumatised, or suffer from insomnia.