I am a big Ajay Devgan fan. How could I then pass the chance to see him doing a Sean Penn in I Am Sam?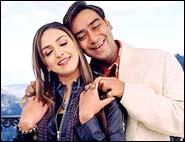 This is the story of director Harry Baweja's Main Aisa Hi Hoon: Indraneel Thakur aka Neel (Devgan), a mentally challenged man, meets Maya Trivedi (Esha Deol). Maya, a poor little rich girl, has run away from a father who does not have the time for her.
She meets Neel, falls in love, gets pregnant and leaves him behind, holding the child (she later admits the love she got from Neel and the lack thereof from her father, forced her to leave Neel).
Neel, who has the mind of a seven-year-old, raises daughter Gungun (Baby Rucha Vaidya). When she turns seven, she refuses to study further so that she doesn't become smarter than him. She hates her school friends because they tease her father.
Enter the villain of the piece, Dayanath Trivedi (Anupam Kher), Maya's father. He decides he wants custody of his granddaughter and drags Neel to court.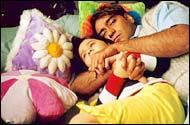 Neel approaches Neeti Khanna (Sushmita Sen), the best lawyer in town. Neeti, a divorcee, is a workaholic and has no time for her son. She has no time for Neel either, but he finally convinces her to defend him in court.
The action shifts to the courtroom. Will they settle the matter? Does Neel retain custody of Gungun?
That is for you to find out.
Main Aisa Hi Hoon is a remake of I Am Sam, suitably tailored to meet the taste of the Indian audience.
But the many songs and the flashback narrative, quite frankly, kill the movie. 
| | |
| --- | --- |
| | More on rediff.com ! |
| | |
Neel, who loves playing the guitar and works in a cafe, is shown composing and singing songs effortlessly. He finds only one very difficult, Just walk into my life.

In the English version, the movie begins when the girl leaves Sam with the child. In the Hindi version, the movie starts when Esha Deol meets Ajay Devgan. Scenes tend to, therefore, drag and spoil the movie.

Baweja fails to build the relationship between Neel and Gungun, which should have been the crux of the movie. No wonder we don't feel sympathetic towards the father-daughter duo.

Ajay Devgan tries. Very hard. But he fails to 'be' his character and does not do justice to Neel. Also, he does not portray the innocence of his character. You feel like you are watching an action hero.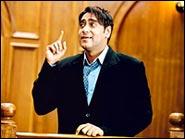 Sometimes, he behaves like a buffoon. That is why the emotional scenes between the father and daughter that are meant to evoke sympathy end up looking comical.
Esha Deol, in her guest appearance-like role, is learning to perform.
But the actor who stands out is Sushmita Sen. After her performance in Main Hoon Na and Main Aisa Hi Hoon, we hope she gets more substantial roles.
Himesh Reshammiya's music is good, but we could have done without the overdose of songs in this movie. The song, Teri galiyon se, though, has been choreographed well.
Overall, the movie is not worth watching. And you don't even have to wait till its unbelievable end to realise that!