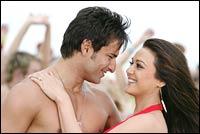 Salaam Namaste! Sounds cool, doesn't it? How about a hot 'n' cool visual to go with it?
Picture this: A shirtless Saif Ali Khan in really low waist jeans and Preity Zinta in a red halter neck top and chic denim mini. Add a troupe of 60 dancers, clad in two-piece swimsuits, against the backdrop. What are they doing? Dancing, but of course, in the blue waters of Rye Beach, Australia.
The new Yash Raj Films romantic comedy, which will hit the marquee this September, is all about attitudes, living abroad and fending for oneself.
Salaam Namaste marks the debut of Siddharth Raj Anand who assisted Kunal Kohli during the making of Hum Tum.
| | |
| --- | --- |
| | More on rediff.com! |
| | |
The romance has been shot extensively in Melbourne, Australia. Fans of Zinta, did you know that Kangaroo Town is the actress's favourite shooting spot? She previously shot there for Abbas-Mastan's Soldier and Farhan Akhtar's Dil Chahta Hai.

What's the music like? It's 'hip' and caters to the 'happening' crowd. Post-Dus, the zippy composer duo Vishal-Shekhar look set to rock the charts once again.

The soundtrack kicks off with the peppy title number. Though the song's carefree personality bears striking resemblance to Hum Tum's Chak de, its fun beats and effervescent rendering by Kunal Ganjawala and Vasundhara Das send positive vibes to the listener. A potential hit, Salaam Namaste might become the catchphrase of this season. The track has a dhol mix (by Nikhil Chinnappa and Naved) version too. Higher momentum and racy pace set this one apart.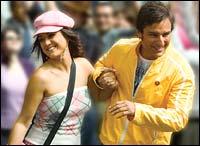 My dil goes mmmm features three times in the album. You run into the Hum Tum hangover over this one as well. The 'men are from Mars and women are from Venus' sentiment, which was echoed in Ladki kyon najane kyon ladkon si nahi hoti is expounded in My dil goes mmmm too. The approach may be similar but the song is pretty catchy. Its zingy notes and peppy lyrics hook the listener in no time. Apart from the original track, there is DJ Aqueel's English club version, which is heavyduty nightclub material. More mmmms are thrown in Aqueel's instrumental theme of the same.
At the onset, you may dismiss it for another wannabe pop song, but What's goin' on is anything but that. Its flavour is stylishly urban and its lilting tune has heart. Ten brownie points to Ganjawala and Sunidhi Chauhan for lending an air of witty mischief and youthful exuberance to this charming ditty.
Sonu Nigam and Mahalaxmi practice the art of affections and adoration in Tu jahaan. This mushy love duet is smooth sailing.
Spirited, fresh, young and trendy, Salaam Namaste scores big.