esterday, we presented some myths and facts about abdominals.
Today, we have five exercises to get those fab abs!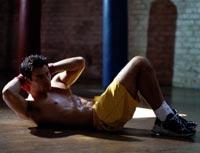 1. Basic crunch
Lie on an exercise mat with your knees bent and hands behind the head.
Lift your upper body off the floor using your upper back and shoulder blades.
Do 10 repetitions of the basic crunch.
Trainer's tip: Never allow the chin and chest to touch.
2. Leg lift
Lie on the exercise mat with your hands below your lower back.
Keep your legs up straight so that they are perpendicular to your upper body.
Move them back and forth, but not beyond, a 45 degree angle.
Trainer's tip: Never lift your lower back off the floor or let the legs go all the way to the floor.
3. Bicycle pump
Lie down in the basic crunch position with hands below your head.
Lift your upper body while twisting it towards the left, bringing your right knee towards it and vice-versa.
Trainer's tip: Keep your lower back flat on the floor and the upper back curved in a C-shape.
4. Sit-up
Lie down in the basic crunch position with hands crossed at the chest.
Ask your trainer to stand on your toes.
Lift your upper body off the floor, keeping your chin up.
Trainer's tip: Never jerk your body while lifting yourself off the floor. Do it slowly and do only a few at a time until you get the technique right. This is not for beginners or people with lower back problems.
5. Rowing
Lie down on the floor with your hands below the lower back. Bend your knees and bring them as close to your chest as possible.
Keeping your back stable on the floor, lift your buttocks inward. Your hips should only reach a couple inches off the ground. 
Lower your hips until the top of your buttocks touches the floor.
Five-minute abs!
If you are hard-pressed for time and want to increase the intensity of your ab workouts, try this:
Choose any three exercises and do 20 repetitions of each without stopping. For example:
20 reps of basic crunch
20 reps of bicycle pump
20 reps of leg lifts
Stretch. Repeat any three combinations two more times.
Caution: Do not perform any exercise without expert supervision.
Got a question for Samreedhi? Please write to us!
DON'T MISS!
Next: Clothes to maximise your abs!
More Samreedhi Sharma
Samreedhi Sharma runs her exercise studio Sizewise, exclusively for personal training and nutrition. She has written a number of columns on fitness, and is the international contributing writer for www.protraineronline.com and www.bodybuilding.com