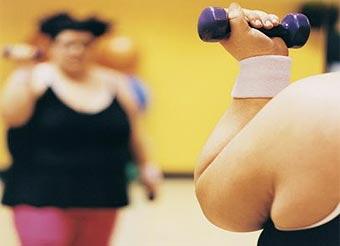 ealth queries?
Weight loss problems?
Diet woes?
Nutritionist and fitness expert Samreedhi Sharma has the answers
---
Samreedhi Sharma: Hi everyone! Welcome back to an hour of good health advice!
---
raja123: Is it possible to remove smile lines and wrinkles along the smile lines?
Samreedhi Sharma: Vitamin A creams do help to an extent, but please consult a skin specialist for accurate advice. If you are crash dieting, stop immediately. It may be causing premature lines on your face.
---
duke: Hi there. I was wondering if there is any remedy to control sudden anxiety/ panic attacks?
Samreedhi Sharma: Hi. You need to do exercises that teach you to relax. Pranayama (a Yoga breathing technique) or even just walking will help you become a calmer person. See a psychologist if need be and focus on positive thoughts instead of negative ones!
---
Samreedhi Sharma: Neelz asked if a low carb diet is a good option for weight loss.
I want to tell him that though you will lose weight by cutting down on your carbs, the weight is not fat loss but muscle mass. Since muscle weighs more than fat, it shows quickly on the scale.
This is unhealthy. By cutting carbs, you lower your metabolism even as you make your body efficient in storing fat. What's worse, you will gain back double the weight you lost.
---
narsing: How does one keep fit?
Samreedhi Sharma: Think fit. A healthy mind = A healthy body. Maintain your weight. Exercise everyday. Eat right. Relax everday. Keep stress away!
---
SMITHA: Hi. I regularly attend my aerobics class. It's for 45 minutes every day and I have been going for the last three months but have not reduced much weight. Please advise.
Samreedhi Sharma: Hi! You need to control your diet. Cut down excess food, fried stuff, sweets... Try and include 20 minutes of weight training everyday.
---
kalind: What is the best time to exercise -- morning or evening?
Samreedhi Sharma: The best time is when it is convenient for you, but always remember to exercise one or two hours after a meal.
---
narsing: As I work in private organisation, I have to spend a lot time in the office. How do I tackle the backpain and the stress?
Samreedhi Sharma: Start strength training in the gym with moderate weights. Ask your trainer to teach you lower back strengthening exercises and stretching. Exercise will also help in stress relief.
---
kalind: Andrew Lepius said in Walk The Talk that if you do a bit of exercise first thing in the morning, it kickstarts your metabolism rate. Once raised, this high rate helps you burn more calories even when you are not exercising. Is it true?
Samreedhi Sharma: Hi! That is true only for weight training as weights give you an afterburn effect; i e you burn calories upto 12 hours after the workout. In other exercises, you burn calories only while exercising. The time of the day does not really matter; just keep working those muscles.
---
sumi: Hi. I am 22 years old and married. I don't get periods regularly. My weight is little more above the normal. I want to know whether weight has any influence on my menses cycle.
Samreedhi Sharma: Hi! If you are 10 to 15 kgs above your normal weight, it could. It could also be that you are putting on weight because your menses are irregular. Get a hormone check done and consult your gynaecologist. Keep working out and don't crash diet.
---
narsing: Can we drink water while we exercise?
Samreedhi Sharma: Yes, yes, yes! You should never wait till you are thirsty to drink water. That means you are already dehydrated. Drink water in small sips throughout your workout. You should drink at least 500-800 ml during your workout.
---
ABILASH: What food should I eat daily to put lots of muscles while doing exercise? Some people suggest eating raw eggs daily. Does this help?
Samreedhi Sharma: Hi! If you are a non-vegetarian, you do not need any supplements. Eat four to five meals a day. Eat plenty of fresh fruits and vegetables. Drink water. Keep varying your workout and its intensity and watch those muscles grow!
---
DON'T MISS!
Why are you putting on weight?