India will support the candidature of United Nations Under Secretary General Shashi Tharoor as the next secretary general, senior government sources in New Delhi told
rediff.com
today. UN Secretary General Kofi Annan's term ends on December 31, 2006, and several international figures are in the running for the post.
The parallel lives of Shashi Tharoor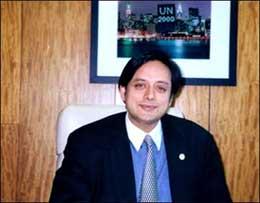 Traditionally, it is Asia's turn to lead the UN under the rotating system, although some Eastern European nations and even the US have been talking about pitting their candidate, despite an unwritten rule which prohibits the top man coming from one of the five permanent members of the UN Security Council.
Among the Asian contenders, Jayantha Dhanapala, the adviser to Sri Lanka's president and a former UN under secretary general, is considered the front-runner.
Foreign Policy magazine also named South Korea's Minister of Foreign Affairs and Trade Ban Ki Moon, Thailand's Deputy Prime Minister and former foreign minister Surakiart Sathirathai, Kemal Dervis of Turkey, who heads the UN Development Programme, former Poland president Aleksander Kwasniewski, and Latvian Vaira Vike-Freiberga as other contenders for the job.
The Shashi Tharoor Chat | Interview
Though the secretary general is finally elected by the UN General Assembly, the UN Security Council must agree to the name before the General Assembly votes.
Indian government sources said a formal announcement of its endorsement of Dr Tharoor's candidature is likely in a "day or two."
'India has done the right thing on Volcker report'
Mumbai-born Dr Tharoor, who turned 50 in March, did his schooling in Mumbai and Kolkata, before going to St Stephen's college in Delhi. A contemporary of director Mira Nair and actress Lillette Dubey at university, he is considered one of the brightest members of his generation, getting a PhD from the Fletcher School of International Diplomacy at Tufts University in the USA when he was in his early 20s.
How Amisha Patel won an elephant
He is also an accomplished writer, has written novels, books of history and recently published a biography of Jawaharlal Nehru.