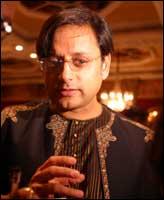 As the United Nations Under Secretary General for Communications and Public Information Shashi Tharoor is most qualified to talk about the controversy generated by the Volcker Committee's investigations into the misuse of Iraq's Oil-for-Food programme when UN sanctions were in force.
Its findings -- which, among things -- state that former external affairs minister K Natwar Singh and the Congress party received illegal benefits in the form of vouchers from the Saddam Hussein regime.
Deputy Managing Editor Ramananda Sengupta managed to buttonhole Tharoor for a quick interview in Mumbai on the controversy that has generated tremendous political heat in India.
Complete coverage: The Volcker report
How actionable is the Volcker report?
The Volcker Committee is a committee of inquiry; it is not a judicial panel. And it is not in a position to make any judicial determinations of guilt. In Indian terms it is more like a fact-finding committee. It has laid out a number of facts that it has been able to establish with varying degrees of proof and substantiation. The onus thereafter, is on national governments, national authorities, to take such action as they deem appropriate.
And in each of these countries there has been a different reaction in different cases -- you've heard that the Russian government has dismissed some of the charges as fabricated, as forged. And you've also heard that the French have arrested even a former ambassador as part of their investigations. Each country is handling each case differently depending on the amount of information made available.
What Indian laws have been broken?
The Indian government has done absolutely the right thing in setting up a commission of inquiry because it is in the interest of everybody, including those named in the report, to have the truth established.
There has been talk about Natwar Singh suing the United Nations. What kind of action would that entail? Has it been done before?
No, that's going to be a problem because the UN benefits from the privileges and immunities that are not only enshrined in the charter of the UN but in all cases the countries acceding to the UN charter have passed domestic laws granting privileges and immunities to the UN. So I don't think even in the laws of India it would be possible to sue the UN.
The Congress' idiotic threat to the UN!
How could Natwar Singh get access to the documents which name him?
Now that is a very fair question that he has every right to ask because you have somebody impugned in public without some information given to them, that they have a chance to respond to. Now it appears that the Volcker Committee is under the impression that it has sent the notification to the people named and it appears that neither Natwar Singh nor the Congress party who have been named have received such a notification. And that is one of the things that is going to have to be established.
The US does not like Natwar Singh
I believe the Indian government has asked Mr Virendra Dayal to look into all the information available. Mr Virendra Dayal is somebody I have known for a very long time, a man of unimpeachable integrity and an amazing record. He also knows the UN system very well. So we couldn't have found a better person. I am sure if there is anything to be found in this matter he will find it.
And then with the Commission of Inquiry by Justice Pathak, I feel reasonably confident that we will be able to get a fairly detailed understanding of what transpired.
If Natwar Singh wants to challenge this report, how could he do that?
At this point the only proceeding is a domestic proceeding. In other words any challenge that would have to be made would have to be made in a submission to the Pathak Commission. This is my understanding.
Natwar Singh stripped of portfolio
Now obviously I would not in any way want to imply any restrictions on any individual's right to challenge those who are revealing information that he may believe is wrong. He may certainly deal with Mr Volcker, write to Mr Volcker if he wants but there are no further proceedings in the Volcker Committee. And there are no further proceedings in the United Nations on this matter.
Once the report came out, the only action that remained was for national governments to look into the matter.
The charges made against Natwar Singh, would you consider them to be instances of political graft as it is technically known?
I would not want to characterise these charges. In a more general way without referring to any specific case there has been a pattern under which the Saddam Hussein regime gave vouchers to various people who were sympathetic to the regime and these vouchers entitled people to lift a certain amount of oil. In some cases the vouchers were used and in some the vouchers were given; in other cases they were sold or traded. And in some cases they were returned or discarded. So as I said there was no presumption of guilt.
Natwar, son visited Iraq, says businessman
If indeed there is some indication that you have -- how shall I put it? -- that you have a real case against somebody for allegedly earning benefits from the voucher, you still have to see what happened to the voucher. That's the general proceeding and as I said, we in appointing Volcker were particularly interested in any actions involving UN personnel and UN procedures. But Mr Volcker came across information over a couple of thousand individuals and companies from all around the world. And that is beyond the scope of anything the UN can look in to, so we are not making any pronouncements or passing any judgements on the cases that are in your mind here.
What are you doing here in Mumbai, or India for that matter?
I was actually on leave. Much to my dismay my leave has been completely consumed by this event and I have been as a result not being able to enjoy time. My mother is here with me and we are just trying to have a bit of a break.
I am also addressing, I am a member of the International Board of Overseers of Tufts University. I studied in the Fletcher School of Law and Diplomacy, where I did my PhD, which is part of Tufts University. And that university has brought an international board to India; there is an increasing discovery of India on the part of American universities and they have invited me to come and address their group and participate in some of their meetings, and I was doing that on my own time, on my own leave. And that I am continuing to do in between these various demands on Volcker.
Photograph: Jewella C Miranda