Nearly a fortnight after Terror Tuesday, we visit some survivors of the tragedy. An ongoing series:
Manna Nali Dharwala
LIC agent
Ward 6 (Surgery)
K E M Hospital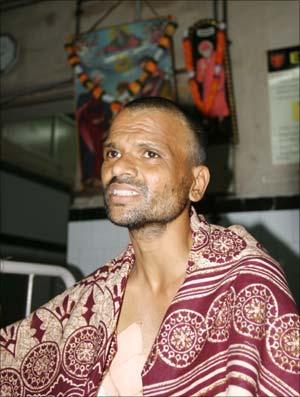 The nurse stood at the bedside and asked Sakina Shabbir Dharwala, "Usne kuch khaya (Did he eat anything)?"
"Nahin (No)," said the elderly Sakina. "Mana karta hain (He refuses)."
"Aise kaise chalega?(How can he do this?)" asked the nurse, impatiently. "Usko khana chahiye. Usko bolo, aisa nahi chalega (He has to eat. Tell him, this attitude won't do.)"
Sakina nodded and took the small white tablet the nurse gives her.
On the bed, Sakina's son Manna is in exhausted slumber. She wakes him up and gives him the tablet. He washes it down with a tiny mouthful of water. Sakina pleads with her son to eat, but he refuses, saying it makes him feel even more ill.
His mother adjusts the pillows and sheets; grimacing in pain, Manna goes back to sleep.
Two weeks ago, before he boarded the train on the evening on July 11, life was normal for 37-year-old Manna.
Like thousands of others in this 'city of dreams', Manna spent long hours to reaching his workplace at Masjid Bunder in south Mumbai. And then, at the end of the day, he would return home to his family -- his wife and two children (aged 15 and seven).
Then, one evening, Chance stepped in and put him in a crowded second class compartment, jammed against the metal that divided it from the first class compartment. He had boarded the train at Dadar, central Mumbai. A couple of minutes later, maybe less, as the train reached the next station, Matunga Road, a powerful explosion ripped through the first class compartment.
When Manna, who was among the many who was injured, regained consciousness, he was in Mumbai's King Edward Memorial Hospital. In agony.
He is still in a lot of pain despite the painkillers he swallows daily. "They give me a lot of medicine," he says. "But it does not seem to have any effect."
The bone in Manna's right forearm is broken in many places says a nurse. It is being held in place by a steel external fixator as it heals.
He has internal damage as well. Due to the intense air pressure exerted by the blast, air and liquid have entered his chest cavity. Over the last week, this has been drained.
Bits of flying metal slashed his back, chest and hand; his wounds are being treated.
His head had to be shaved so that the doctors could minister to the minor cuts and bruises there.
For many days, he was bed-ridden, unable to move. He has recently started sitting up, but still finds it very painful to walk.
"I don't take the same train every day. I travel at different times because of my work. It's just my bad luck that I was on that train. That I was standing right next to the compartment where the blast happened," he whispers.
The doctors have been doing their best treating his injuries. "The treatment is good here," says Manna. "I have no complaints."
He has obtained some compensation from the Western Railway. "They gave me Rs 5,000 in cash and a cheque of Rs 45,000."
He is worried about his job. "I want to get well. I have to work. If I don't, who will help us?" he asks.
His family has not visited him much. "My wife is looking after the children," he says. His mother, who has come from the village to help look after her ailing son, has been by his bedside for the last few days.
His superiors have visited him, but he expects his salary to be deducted if he does not return to work soon. His injuries, however, will take time to heal.
"I am very angry at what has happened," he says softly. "Lekin kis pe utharon (But on whom should I vent my anger)?"
July 11 may have inflicted more damage on Manna than just physical injury. He seems to have lost the will to go on. "I can't eat. I am in too much pain. I am not interested in anything any more."
"Why does all this happen to people like us?" he asks. "Why does this always happen to the common man?"
Text: Savera R Someshwar | Photograph: Sanjay Sawant
MORE IN THIS SERIES:
'My taqdeer was bad. But my taqdeer was also good'
'I'll take the same train and sit in the same compartment'