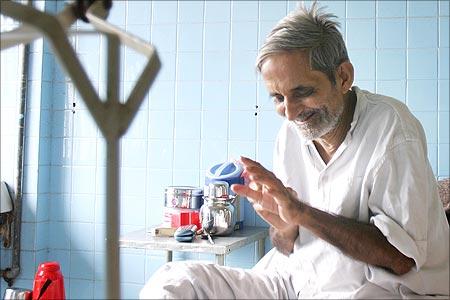 Ten days after Terror Tuesday, we visit some survivors of the tragedy. An ongoing series:
Seventy-two victims of the serial blasts were delivered to the doorstep of the Bhabha Hospital, the municipal hospital at Bandra, northwest Mumbai, over three hours on the rainy, bleak evening of July 11.
Many -- either unconscious, bleeding or dead -- showed up in taxis. Others arrived in ambulances and police vehicles from the Mahim and Matunga Road train blasts.
They filled up the wards on the 4th, 5th and 8th floors, the intensive care unit. And the mortuary. They stretched the capacity of the hospital, as well as the duty hours and skills of its doctors, paramedics and nurses beyond their limits.
Today only one patient is left.
On the 5th floor in a cluttered side room of the orthopaedic department an exhausted, but really quite cheerful Bhupendra Joshi dozes, his right leg, wrapped in white, raised and resting on a crude wooden stool of sorts.
Joshi was travelling on the 5.57 Virar fast that came to a screeching halt at the Matunga Road station when a bomb went off in a first class compartment on Tuesday, July 11.
The 65-year-old resident of Bhayander, a satellite town north of Mumbai, had wound up his working day, pretty much by the clock, at R Rasilal and Co, an export firm near Fountain in Mumbai's business district and was part of the advancing horde of commuters descending on Churchgate station at rush hour that evening. He caught his regular train.
Joshi was seated in the second-class compartment located next to the men's first class bogey, when, shortly after the train exited Dadar, there was a deafening noise.
"Everyone started yelling and getting excited," he explains in Hindi. "They said it is a bomb. Let us get out of here. They started jumping out of the bogey. I jumped too. And others jumped on top of me. And that is how I got this injury."
They were all lying on the ground, strewn around the railway compartment, when volunteers rushed across to help them.
Though Joshi was brought to the Bhabha hospital on that Tuesday in a taxi from Matunga he was not admitted because his injury was not too serious. Instead he was dropped to his brother's home in Bandra and the following morning a Shiv Sena ambulance brought him back to the Bhabha hospital. The orthopaedic surgeons performed an operation on Joshi and inserted a plate and a screw. Today, he is ready to be discharged.
"When the bomb exploded the only thing I could think about was jaan bacha ke chalo (save your life and carry on). But when I think about the whole sequence of events I feel very angry. I also feel that I have no confidence in what can happen next," says Joshi.
For his wife Nalini, who lives separately from Joshi for economic reasons, with their daughter in Kalyan, jointly running a Gujarati food catering business -- she provides snacktime farsan daily to six companies and makes up 15 to 20 tiffins each day for merchants in the diamond bazaar at Panchratna -- the July 11th blasts brings her enormous anger.
"I feel like shooting the persons responsible for this," she says. "And I won't mind having to eat jail food for the rest of my life for having done that."
She believes the country sorely lacks law and order and that in retrospect the days of Nehru, Shastri and Indira Gandhi were golden days because at least incidents like this never occurred.
Joshi, who first came to Mumbai 50 years ago from Khambhalia, near Jamnagar in Gujarat, muses, "My taqdeer was bad so this has happened. But my taqdeer was also good that it was only this (pointing to his foot)."
Text: Vaihayasi P Daniel | Photograph: Rajesh Karkera