In the second part of his interview to Rediff India Abroad Assistant Managing Editor Archana Masih, Biju Janata Dal Rajya Sabha MP Baijayant 'Jay' Panda discusses how the state government will deal with the Kalinga Nagar tragedy and assures that action will be taken against the guilty.
Part I: 'People are playing politics with the tragedy'
You are a young politician with new ideas, have you had a chance to share these ideas with your senior party colleagues -- how does it work at the party level?
I have conveyed all this to my party. You know the Kalinga Nagar incident was a shock to everybody. I don't want to second-guess the judicial commission but my own guess is that perhaps the authorities never believed that something like this could happen. They were probably not prepared.
The incident happened with a policeman being killed first and the rest of the cops retaliated. They were taken unawares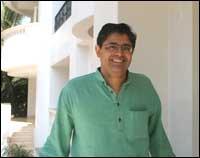 because this sort of a situation was unheard of in Orissa. It has come as a big shock not only to my party but to every party because this is not common in Orissa.
How we acquit ourselves in the next couple of years will decide the fate of all these projects coming up. Unless we show flexibility and a humane approach, the legacy problems will just multiply and we will never be able to bring in all this investment and development.
But the reports say the district administration had come fully prepared with armed police?
This is why we have to wait for the judicial reports to have real facts. You hear facts and misinformation and disinformation. The fact is whenever there is a demonstration -- by tribals in Kalinga Nagar or by non tribals in Bhubaneswar -- the police always go armed. Because there is always a theoretical possibility of violence.
From what I have heard I don't think the cops were prepared for outside elements to stir up trouble and I've heard a policeman was killed first following other cops started shooting. This may or may not be true we'll have to wait for the judicial inquiry.
We are not going to go by preconceived notions of what was wrong and what was right which is why we've asked for a sitting judge of the high court, it could have been an administrative inquiry -- it's not, it's a judicial inquiry not by a retired but a sitting judge.
If the inquiry finds that the cops started shooting on their own we shall certainly take action, you can rely on that.
How have opportunities changed in Orissa in the past few years?
Traditionally, Orissa has had limited opportunities. Many talented people here have been forced to look for jobs outside.
Over the past few years it has been changing. If you look at the GDP growth rates -- in the 1990s when India was being libralised, eastern India was being left behind, western and southern India were growing at a much faster rate.
Post 2000 the gap has considerably shortened which means that the economic growth rate of Orissa is much closer to the national average then it used to be 10 or 15 years ago. There's much more economic activity and the best thing is that it is not entirely dependent on the government anymore. There are lots of companies in the private sector that are coming in and investing.
But Orissa's greatest potential in the medium and long term remains its tourism, coastline and its mineral wealth. The mineral wealth of Orissa has never been developed properly because of faulty policies from Independence till recent times.
The biggest example of this is the trade equalisation policy as a result of which the railways was made to subsidise raw material from places like Orissa, Jharkhand and Bihar to the rest of the country.
So whatever economic logic existed in people to invest in steel or power plants in Orissa just vanished because if you could get the same material at any cost anywhere they would rather put it up in other parts of the country where it was easier.
That has changed after liberalisation and after the state government here started insisting on value addition locally. So earlier where Orissa was mainly an exporter of raw material, today a large number of projects are coming up to make the value addition that provide a lot of jobs, brings in investment and develops the economy further.
I still don't think there are adequate opportunities for the youth, we still have a long way to go but the prospects are very good.
We suffer greatly due to lack of infrastructure and infrastructure is not something that can be made overnight because we have a lag of more than 50 years. Once we get that organised, the tourism industry is expected to boom.
We went to Gopalpur, which has a lovely beach and gathered that some effort was made to develop it few years ago but it seems to have been abandoned?
I don't think it was abandoned. Gopalpur has been a tourist spot going back many centuries. In the 1970s and 1980s when infrastructure was being built around the country when places like Goa and Kerala came up in the tourism map, that is where we missed the bus -- in not having the infrastructure. I don't think it was attempted and abandoned, it was just left behind for a long, long time.
You are right that the tourism industry is severely handicapped and it is primarily because of infrastructure. Without accessibility nobody is going to invest
In terms of education?
Orissa started turning a corner a good 20 years ago when we got the Xavier Institute of Management, which is today ranked the sixth best management institute in India. In the last 5 to 7 years, we have just taken off, there are private investments coming in. Institutes like the Kalinga Institute is very large with an infrastructure compared to any of the largest institutes. Three medical colleges are coming up.
But education has to start from the bottom at the primary and secondary level without that the pyramid is inverted. Orissa has made two dramatically good development points in the last two years. In reducing child mortality and improving primary education.
The benefits are not going to be evident immediately but 10 years from now. We are doing a lot of things that have long term impact and we are removing the shackles so that private investment can come in.
Photograph: Jewella C Miranda